Section Branding
Header Content
Top AAA Offenses Face Impenetrable Defenses
Primary Content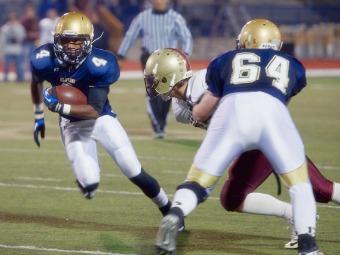 Class AAA is still wide open with several teams capable of seizing the GHSA state title. Thomson entered the postseason 10-0 before cruising to a pair of easy victories over Jackson and Johnson-Savannah. Milan Turner's Bulldogs are led on the ground by tailbacks Chris Jordan and Torrie Battle and through the air by quarterback Chris Tutt, when healthy. If Tutt cannot go, Quay Cummings has played almost all of the last two games under center. The Bulldogs' running game will be tested by a strong Cartersville Purple Hurricanes defense. Undefeated Cartersville has held six opponents to seven points or less this season and Blessed Trinity's notched the most points against Frank Barden's defense last week, scoring 23 points. The defense was opportunistic, capitalizing on six turnovers (three fumbles, three interceptions) against Blessed Trinity and helped QB Brooks Barden and the Cartersville running game come away with a nice victory. The offense shouldn't be overlooked either for Barden as the unit produced a streak of nine straight games scoring at least 38 points until being held to just 24 last week.
The Buford Wolves are out to prove that a move up to Class AAA won't stop the program's dominance. Buford has reached the GHSA finals five straight years and could be in a position to make it six in a row. While the typical Buford offensive explosion was held in check last week, the defense once again stood tall, whitewashing North Oconee in a 13-0 win. It was the third official shutout of the season for Buford after a pair of wins were later forfeited for using an ineligible player. Ever since falling to Gainesville at home back in early September, the Buford offense has also been on fire, scoring at least 34 points in each game until last week. Quarterbacks Taylor Mitchell and Montgomery VanGorder have been sharing the load under center while Zavior Hoxie, Dontravious Wilson and Thomas Wilson have been racking up plenty of rushing yards. Jaylon Mize, Mikey Bart and Josh Cardiello are three seniors that have offered Jess Simpson's team leadership over the course of the year. Carver-Columbus will be out for blood when they host the Wolves. Marqui Hawkins, Torrance McGee and JaQuan Sanks all saw their 2011 season end in the semifinals to Buford and the Wolves have won the last two showdowns against the Tigers.
Peach County hits the road to face North Hall after taking out Pierce County 43-15 last week. Chad Campbell's Trojans will likely have to go on the road from here on out if they want to claim the program's first state title since 2009. The Peach County attack starts with receiver Demarcus Robinson, who is one of the state's top players. The Trojans also boast Keyshawn Lowe and Greg Williams, two playmakers in their own right. On the other side, North Hall's Kevin Christmas has been at the forefront of a different offensive look for the Trojans. T.J. Tate and Zac Little also get into the action on the ground as does QB Brad Brown. Brown doesn't go to the air often, but Christmas does know how to scheme up special plays designed to catch the opposition off guard.
St. Pius X managed to score 31 a week ago in a win over Hart County, a healthy number, but peanuts compared to the 72 the Golden Lions hung on Dawson County in Round 1. Jack Spear leads the offense but junior playmakers Nick Ruffin and Nick Glass do their part for Paul Standard's offense. Both Ruffin and Glass are also considered elite prospects in the defensive secondary. They will need to be on their game to slow down QB William Walker and RB Jakelo Johnson. Each accounted for two scores in WaCo's 28-0 win over Callaway in Round 2.
Secondary Content
Bottom Content