Section Branding
Header Content
Archer Dominates Recent Wrestling Stretch
Primary Content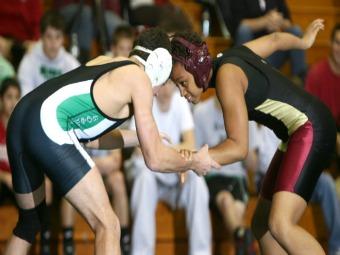 Class AAAAAA No. 2 Archer improved to 14-0 over the Thanksgiving holiday by winning three matches.
The Tigers won the Takedown Sportswear Duals wrestling tournament Saturday in Lawrenceville by beating Class AAAAA No. 5 Kell (72-6), South Forsyth (76-0), Mill Creek (81-0), Rockdale County (67-10) and Bob Jones (Ala.) (72-12). Vinny Artigues, DaQuan Olbert, Grant Aycox, Chris Diaz, Daniel Bullard, Thomas Bullard, Zach Wright, Robby Kwarteng, Elliot Lee and Ernest Alexander each went undefeated during the event.
Last Wednesday, Archer won the Parkview Duals by upending five other teams. The Tigers took down Class AAAAA No. 8 Paulding County (60-13), Class AAAAA No. 2 Loganville (59-9), Woodland-Bartow (55-12), Lumpkin County (73-6) and Class AAAA No. 2 Gilmer (56-6). Olbert, Sam Bullard, Diaz, Bullard, Lee, Alexander and M.J. Couzan each finished undefeated for Archer.
Gilmer took second at Parkview and was followed by Woodland-Bartow, Parkview, Loganville and Peachtree Ridge.
On Saturday, Nov. 17, the Tigers swept through the Allatoona Duals as seven Archer wrestlers were a perfect 4-0. The Tigers beat Woodstock (71-6), North Forsyth (58-18), Cass (57-6) and Gilmer (43-21).
Coach Tom Beuglas' squad will travel to Southern Slam Invitational in Greenville, South Carolina, this weekend to take on some of the top programs in the southeast.
Class AAAAAA No. 4 Kennesaw Mountain hosted two meets recently including the Horseshoe Duals on Nov. 17 and the KMHS Thanksgiving Duals on Nov. 24. The Mustangs came in second behind Class AAA No. 3 Woodward Academy in the first meet, with Cambridge (third), Southwest DeKalb (fourth) and Woodland-Stockbridge rounding out the top five.
In the Thanksgiving meet, Kennesaw Mountain won the meet and was followed by Roswell, Harrison, Valdosta and Campbell. The highlight of the meet's individual matches, however, was Mustangs sophomore Justan Rivera going up against Buford's Chip Ness, a junior. FloWresting.com has both athletes ranked nationally in the weight class, with Ness at No. 11 and Rivera at No. 19. Ness won the highly-anticipated match 4-3.
Forest Park hosted the Panthers Duals Saturday, Nov. 17 and watched as Class AAAA No. 5 Locust Grove beat Class AAA No. 5 Buford to win the event. The second-place Wolves lost 54-30 in the finals to Locust Grove and to Forest Park 42-40 in the preliminaries, but defeated Drew, Eagle's Landing, Starr's Mill and Mount Zion-Jonesboro. The host Panthers came in third place.
Also on Nov. 17, Class AAAAAA No. 5 Brookwood won the Falcon Duals at Dacula as five of its wrestlers went 5-0 in the tournament. Drew McCorkle (120 pounds), Wyatt Jozwowski (132), Miles Nolan (152), Andrew Collins (160) and Stephen Solamon (182) all finished 5-0. The Broncos beat Class AAA No. 1 Jackson County (62-18), South Forsyth (53-22), Class AAAAAA No. 7 North Gwinnett (48-25,) Cherokee (66-3) and Dacula (40-18).
Douglas County hosted the Tiger Claw Duals Saturday and took first place at the meet. The Tigers finished 5-0, while runner up East Coweta was 4-1. New Manchester, Westlake and Hiram rounded out the top five.
Creekview beat Cambridge 52-20 on Wednesday as the Grizzlies won nine of 13 matches. Ryan Camp (106), Grant Slater (113), Justin Gross (126), Austin Collett (145), Justin Pettyjohn (152), Hunter Smith (160), Michael Crafton (170), Christian Saragusa (220) and Brock Tupman (285) each won matches for Creekview.
Jason Grimes of Holy Innocents' signed with American University on Nov. 14.
Secondary Content
Bottom Content