Section Branding
Header Content
Miller Grove Aiming For Fifth Straight Crown
Primary Content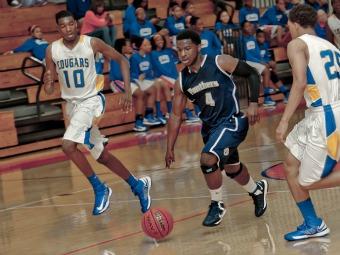 Sharman White has never had to replace five starters before, but the Miller Grove coach feels confident that the eight players he has returning plus point guard Keith Pinckney could lead the Class AAAAA No. 1 Wolverines to yet another state title.
"We've gotta mesh together," said White. "We've got a nice mix of youth and experience."
White would go on to say of the traditionally-tough Region 6-AAAAA "the state champions come out of this region." The region boasts the top four teams in Class AAAAA with 2011-12 finalist Southwest DeKalb checking in at No. 2, Stephenson beginning the year No. 3 and Tucker sitting at No. 4.
Brannen Greene and Tadric Jackson helped make Tift County the Class AAAAAA No. 2 team to start the 2012-13 season. Tony Bagtas and Kejuan Johnson have Westlake in a position to challenge for a state title while North Cobb offers enough of an inside-outside punch that could take the Warriors to the semifinals or farther. No. 4 Wheeler also appears to be back with Daniel Giddens and Jaylen Brown leading the Wildcats charge.
Jabari McGhee has Monroe fans thinking that this could be a special year in Class AAAA but Eagle's Landing has the best collection of talent in the entire classification. Desmond Ringer and Eric Wortham are a talented duo that will like life difficult for opponents. No. 3 Jonesboro has Chukedubem Okeke in addition to a pair of football players in Patrick Petty and Cameron Sutton that will make the switch to the hardwood once the football season is finished. No. 4 Columbia will play this season, its first without Phillip McCrary, but Tahj Shamsid-Deen is back in the Eagles' backcourt to help Columbia's repeat bid.
In Class AAA, Buford and Morgan County could be the only teams that could keep the title away from the greater Savannah area with Johnson-Savannah and Savannah loaded and ready to contend in the new AAA. Savannah nearly won the 2011-12 Class AAAAA crown last year before falling to Milton, so it wouldn't be a stretch to think Savannah could win it all. Tim Quarterman is a star for Johnson-Savannah.
North Cobb Christian and Athens Christian are the two best teams in Class A and look for Wilkinson County and Gordon Lee to also make some noise in the state's smallest classification.
CLASS AAAAAA
1. Norcross
2. Tift County
3. Wheeler
4. Westlake
5. North Cobb
6. Milton
7. Shiloh
8. Peachtree Ridge
9. Alpharetta
10. Berkmar
CLASS AAAAA
1. Miller Grove
2. Southwest DeKalb
3. Stephenson
4. Tucker
5. Drew
6. Cedar Shoals
7. Jones County
8. Northside-Warner Robins
9. Gainesville
10. Hardaway
CLASS AAAA
1. Eagle's Landing
2. Monroe
3. Jonesboro
4. Columbia
5. North Clayton
6. Fayette County
7. Marist
8. Carrollton
9. Dalton
10. Ridgeland
CLASS AAA
1. Johnson-Savannah
2. Savannah
3. Morgan County
4. Buford
5. East Hall
6. Central-Carroll
7. North Hall
8. North Murray
9. Dodge County
10. Central-Macon
CLASS AA
1. Laney
2. Manchester
3. GAC
4. Vidalia
5. Early County
6. Jordan
7. Bleckley County
8. Brooks County
9. Screven County
Coosa
CLASS A – Private
1. North Cobb Christian
2. Athens Christian
3. Whitfield Academy
4. Landmark Christian
5. Greenforest
6. Lakeview Academy
7. Aquinas
8. St. Francis
9. Hebron Christian
10. Mt. Pisgah
CLASS A – Public
1. Mitchell County
2. Wilcox County
3. Wilkinson County
4. Gordon Lee
5. Turner County
6. Lanier County
7. Hawkinsville
8. Portal
9. Claxton
10. Commerce
Secondary Content
Bottom Content