Section Branding
Header Content
Gwinnett Cements Football Reputation
Primary Content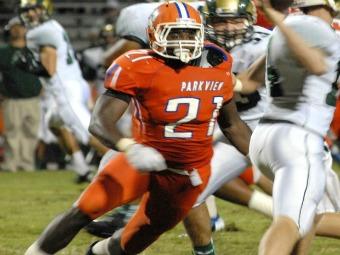 Gwinnett's 9-2 night Friday night was impressive on many levels. The county did not boast a bunch of No. 1 seeds (only two, in fact) but its teams won games anyway. While Cobb, Fulton and DeKalb have made strides in recent years, Gwinnett continues to be "where success lives".
No. 4 seed Mill Creek went into north Fulton and upset the No. 1 seed out of Region 6, Alpharetta, with a last-second field goal by Bryson King to win 41-39. But it was Mill Creek, though, not the top-seeded Raiders, that probably deserved an easier night. The Hawks moved the ball at will behind RB Jacory Lewis' 335 rushing yards, and led 17-0 early and 31-24 heading into the fourth only to see Alpharetta and QB Josh Dobbs come back time and time again. Alpharetta, however, led just once in the game, at 39-38 before King's field goal.
Parkview was a three-seed and traveled to defending state finalist Walton out of Region 5 and came away with a 20-17 win in double overtime. The Raiders were admittedly banged up, with Alabama commit Tyren Jones out and Parker McLeod at less than 100 percent, but the Raiders are still a talented squad that knows how to win. However, Cecil Flowe's bunch went into Raider Valley and captured some of the magic of the 90′s by winning a big playoff game on the road. Justis Rosser led the Panthers with 91 yards and two scores, including the game-winner in the second overtime. Perhaps the biggest upset pulled off by a Gwinnett squad was Brookwood's 24-21 comeback win at No. 2 Lassiter. It was even more surprising given the Broncos trailed 21-0 in the first half. QB Zach Moon hit Ky Priester with eight seconds left to force overtime. And an interception set the Broncos up with a chance to win the game with a field goal, and they did. It was the first regular season loss for Lassiter since Nov. 3 of last season.
Wesleyan and Collins Hill were the only two Gwinnett teams to lose over the weekend, while Buford, Brookwood, GAC, Grayson, Mill Creek, Norcross, North Gwinnett, Parkview and South Gwinnett each had wins.
Secondary Content
Bottom Content