Section Branding
Header Content
White Reloading Miller Grove Basketball
Primary Content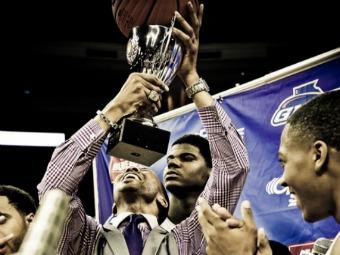 Sharman White has coached the Miller Grove boys basketball team to four straight Class AAAA state titles, but he will not have a shot at a fifth straight Class AAAA crown. Reclassification has bumped Miller Grove up to Region 6-AAAAA along with Southwest DeKalb, Mays, Dunwoody and Tucker while also adding Arabia Mountain, M.L. King and Stephenson to the already-loaded region.
"Our region has been tough for years," said White. "And you've added M.L. King and Stephenson."
Miller Grove was a perfect 10-0 in region play one year ago, en route to a 24-6 overall record, but seven seniors have departed including Christian Houston, Davante Provost, Justin Colvin, Tony Evans, Brandon Morris and Tony Parker. Morris stayed in Georgia and will play for Mark Fox and the Georgia Bulldogs while Parker, after picking up multiple player of the year awards, heads west to suit up for UCLA.
Still, White has eight players returning from last year's team, which should help.
"We have a nice mix of youth and experience," said White. "We've got to mesh together."
White will be replacing all five starters from one year ago, something he's never had to do before, but he expects some of the returning seniors to step in.
"Earl Bryant and Kyre' Hamer are two seniors that are really good, they just didn't start over our seniors last year," revealed White.
A new point guard should also help keep the Wolverines attacking.
"Keith Pinckney is going to be big for us," predicted White.
Pinckney is a 6-foot-1 junior point guard that has already drawn interest from Clemson, Georgia Tech, Tennessee, Wake Forest and Oregon State. Miami has extended a scholarship offer.
Pinckney and the other starters will need to come together quickly as White hoped as the early schedule is unforgiving. Miller Grove will play in Parkview's Thanksgiving Tournament this weekend before later facing Archer in the Nike Explosion Showcase and Norcross in the Blue Collar Basketball Showcase. Coach White is also taking his team to the MaxPreps Holiday Tournament in Palm Springs, Calif., and Miller Grove will face national powerhouse Memphis East in Norcross' Hilton Invitational in January.
All of these games are sprinkled around those tough Region 6-AAAAA games, which White is calling "a preparer for the playoffs."
"We still want to attack and be in the best position we can be (when the playoffs arrive)," said White. "The state champions come out of this region."
Teams from the new Region 6-AAAAA have claimed nine titles since 2004.
Secondary Content
Bottom Content