Section Branding
Header Content
Jefferson, Bremen Battle For Dominance
Primary Content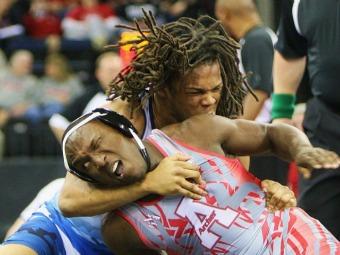 The first wrestling rankings of the year don't necessarily feature defending champions at the top of each classification. This is mainly because reclassification has moved several champions into new classifications and has 2011-12 Traditional champions Jefferson and Bremen now together in Class AA.
Collins Hill returns two champions from last season as well as one runner-up and one fourth place finisher. Gwinnett County rival Archer is right behind the Eagles at No. 2 with Camden County, the 2011-12 Duals champion at No. 3. Several other teams in the Class AAAAAA top 10 will receive a boost once the football season ends including North Gwinnett, Milton and Roswell.
Pope won both the Class AAAA Duals title and the Traditional title in 2011-12, and the Greyhounds start the 2012-13 season No. 1 in Class AAAAA. No. 4 Clarke Central returns Andrew Gigerich and No. 9 Harris County and No. 10 Ware County both feature plenty of talent ready to take the next step this season.
The Class AAA Dual champion Gilmer begins the year No. 2 in Class AAAA behind Alexander, but look for Cameron Perry and Johnie Flakes to come out strong along with Daniel Bautista. Marist's Kenneth Brinson finished 57-3 with a runner-up finish in the 195-pound division as a freshman. No. 8 Carrollton should return champions Jake Adcock and Taylor Lujan, who went 57-0 in the 145-pound class last season.
In Class AAA, Chip Ness for No. 5 Buford seeking another title, but No. 6 Oconee County has plenty of depth with Marshall Brown, Cory Collins, Jake Hodges and Billy Seward.
In Class A, Gordon Lee and Holy Innocents' should battle for the No. 1 ranking all season long. Last year, the two programs split the Class A Duals title, and look for defending champions Cory Jewel and Ethan West to lead Gordon Lee while Jason Grimes, John Hiles, Ross Waters and Brendan Quigley all should return for Holy Innoncents'.
The real battle will take place between Class AA No. 1 Jefferson and No. 2 Bremen. Jefferson has won 12 straight Traditional titles going back to 2001 (eight straight Class A crowns and the last four AA titles), not to mention 11 straight Duals titles since 2002 (seven straight Class A and the last four Class AA). Meanwhile, Bremen has won every single Class A Traditional title since Jefferson moved up to Class AA. Last season, Bremen saw its run of Duals titles end at three when Holy Innocents' and Gordon Lee split the Class A title. Bremen returns past champions Cory Morgan, Brock Cooper, Kannon Madden and Joe Bexley to try and take down the Jefferson dynasty.
Class AAAAAA
1. Collins Hill
2. Archer
3. Camden County
4. Kennesaw Mountain
5. Brookwood
6. Lowndes
7. North Gwinnett
8. Milton
9. Roswell
10. Hillgrove
Class AAAAA
1. Pope
2. Loganville
3. Whitewater
4. Clarke Central
5. Kell
6. Ola
7. Union Grove
8. Paulding County
9. Harris County
10. Ware County
Class AAAA
1. Alexander
2. Gilmer
3. Marist
4. Heritage-Catoosa
5. Locust Grove
6. Eastside
7. Cedartown
8. Carrollton
9. Dalton
10. West Laurens
Class AAA
1. Jackson County
2. Blessed Trinity
3. Woodward Academy
4. Elbert County
5. Buford
6. Oconee County
7. North Hall
8. McNair
9. North Oconee
10. Adairsville
Class AA
1. Jefferson
2. Bremen
3. GAC
4. Lovett
5. Calhoun
6. East Laurens
7. Toombs County
8. Dublin
9. Washington-Wilkes
10. Bowdon
Class A
1. Gordon Lee
2. Holy Innoncents'
3. Commerce
4. First Presbyterian Day
5. George Walton Academy
6. Darlington
7. St. Francis
8. Athens Christian
9. Towns County
10. Charlton County
Secondary Content
Bottom Content