Section Branding
Header Content
Georgia Wrestlers Honored In Offseason
Primary Content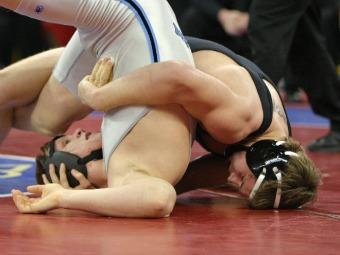 At the Super 32 in Greensboro, N.C., on Oct. 20 and 21, two Georgia wrestlers made national names for themselves. Collins Hill juniors Ryan Milhof and Sean Russell faced off in the finals of the 113-pound class out of the top high school wrestlers in the country. Milhof won the match, but both wrestlers gained national notoriety as a result of their appearance in the final of the prestigious event.
Also at the Super 32, Chip Ness of Buford finished fourth in the 182-pound division and Trevor Stevens of Pope came in fifth in the 220-pound division.
In the offseason, Pope's Brooks Climmons committed to the Air Force Academy. Climmons was runner-up last year at the state meet in the 182-pound class. Climmons, along with Ness and Kennesaw Mountain's Justan Rivera, each received All America honors over the summer. Climmons is ranked No. 2 in the country in the weight class by InterMatWrestle.com. Ness is ranked No. 15 in the same weight class. As a team, Pope is ranked No. 45 in the country.
At the Fargo Junior Nationals in July, Ness came in second in the 182-pound weight class while Rivera came in third in the Cadet Division. Climmons came in second in the 182-pound class in the Junior Division.
In other college commitment news, Tyler Askey of Northgate committed to Virginia. Askey is ranked No. 7 in the nation by InterMatWrestle.com.
Secondary Content
Bottom Content