Section Branding
Header Content
Brookwood Girls Top Final Cross Country Poll
Primary Content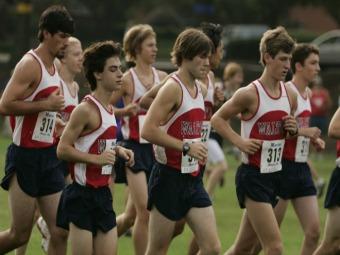 At the cross country championships in Carrollton on Saturday, the season ended with 12 state titles decided.
In Class AAAAAA, Mill Creek brought the boys trophy back to Gwinnett yet again while ending a three-year Brookwood spell. Gwinnett programs have won the state title in the largest classification each year since 2000.
Meanwhile, in the girls AAAAAA meet, Brookwood ruined Walton's quest for a three-peat in Class AAAAAA. It was the first title for the Broncos since 1991.
Marist and St. Pius X each swept state titles in Class AAAA and Class AAA, respectively, with dominant performances.
In Class AA, Westminster's boys won, while the girls had their stranglehold on the state title stripped away by Wesleyan.
Boys
Class AAAAAA
1. Mill Creek
2. Marietta
3. Brookwood
4. Norcross
5. Peachtree Ridge
6. Milton
7. Walton
8. Wheeler
9. Collins Hill
10. North Cobb
Class AAAAA
1. McIntosh
2. Flowery Branch
3. Pope
4. Greenbrier
5. Starr's Mill
6. Lakeside-DeKalb
7. Lakeside-Evans
8. Winder-Barrow
9. Sequoyah
10. Allatoona
Class AAAA
1. Marist
2. Alexander
3. Wayne County
4. LaGrange
5. Perry
6. Pickens
7. Hephzibah
8. Sandy Creek
9. Veterans
10. Eagle's Landing
Class AAA
1. St. Pius
2. Woodward Academy
3. North Hall
4. Blessed Trinity
5. North Oconee
6. Oconee County
7. Cartersville
8. Chapel Hill
9. Hart County
10. Buford
Class AA
1. Westminster
2. Wesleyan
3. Bleckley County
4. Lovett
5. Model
6. Riverside
7. Murray County
8. Pepperell
9. Benedictine
10. Jordan
Class A
1. Athens Academy
2. Darlington
3. Landmark Christian
4. Mt. Pisgah
5. Galloway
6. Athens Christian
7. Whitefield Academy
8. Lakeview Academy
9. Holy Innocents'
10. Georgia Military
Girls
Class AAAAAA
1. Brookwood
2. Walton
3. Peachtree Ridge
4. Milton
5. Mill Creek
6. Lambert
7. Norcross
8. Johns Creek
9. Lowndes
10. Roswell
Class AAAAA
1. Dunwoody
2. Lakeside-DeKalb
3. Flowery Branch
4. McIntosh
5. Lakeside-Evans
6. Winder-Barrow
7. Whitewater
8. Northview
9. East Paulding
10. Starr's Mill
Class AAAA
1. Marist
2. Heritage-Catoosa
3. Alexander
4. Chestatee
5. Pickens
6. Grady
7. Northwest Whitfield
8. Veterans
9. Westover
10. Carrollton
Class AAA
1. St. Pius
2. Blessed Trinity
3. White County
4. Woodward
5. North Hall
6. North Oconee
7. Chapel Hill
8. Savannah Arts Academy
9. West Hall
10. Oconee County
Class AA
1. Wesleyan
2. Westminster
3. Lovett
4. Bleckley County
5. Jefferson
6. Thomasville
7. Union County
8. Coosa
9. Model
10. Bremen
Class A
1. Landmark Christian
2. Providence Christian
3. Darlington
4. Mount Pisgah
5. Pace Academy
6. First Presbyterian Day
7. Paideia
8. Athens Academy
9. Mount Paran
10. Towns County
Secondary Content
Bottom Content