Section Branding
Header Content
Walton, Whitewater Claim Volleyball Titles
Primary Content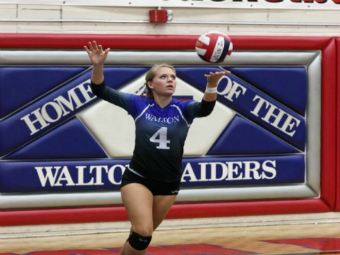 The volleyball state championships concluded Monday at McEachern as Walton won the Class AAAAAA title over Harrison and Whitewater took the Class AAAAA trophy by beating McIntosh.
It was the fourth meeting of the season between Whitewater and Area 4 rival McIntosh, and the Wildcats prevailed yet again. Coach Valerie Jones' squad beat its Fayette County neighbor all four times this season, and concludes the year 52-3. It is the second state championship ever for Whitewater with the other being in 2009.
"We executed well at crucial times," said Whitewater coach Valerie Jones. "We were down 7-1 in the second set, and battled back. We lost the set, but it showed we were not going down easily."
Whitewater profited from star performances by Georgia Tech commitment Teegan Van Gunst, who had 24 kills, while twin sister and fellow Tech pledge Annika had 14 kills. Junior setter Kait Steele had 51 assists while senior libero Abby Baker, a South Alabama commitment, led the Wildcats with 22 digs.
McIntosh was led by Breana Jones, an Arkansas commit who had nine kills and 6.5 blocks, and Rhana Mitchell, who made 19 digs. Senior Ashley Young had 11 kills and two blocks for the Chiefs while junior setter Rhegan Mitchell had nine digs and 20 assists.
Walton was led by senior setter Tori Ferguson's 19 digs and two aces. Freshman setter Celeste Fitzgerald starred with 47 assists, while Chloe Cook had 24 kills, Jessica Sloan had 15 kills and Leah Jackson contributed seven kills.
The championship is Walton's third in a row and eighth overall since the GHSA began handing out state championships for indoor volleyball in 1993. The Raiders defeated Harrison last year in the final as well, and it was Walton's second victory this season over the Hoyas. The Raiders end the season at 34-7 while Harrison fell to 49-7.
Class AAAAAA
Walton 3, Harrison 1 (25-22, 23-25, 25-22, 25-11)
Class AAAAA
Whitewater 3, McIntosh 1 (25-20, 23-25, 25-17, 25-22)
Secondary Content
Bottom Content