Section Branding
Header Content
Champions Headline Final Volleyball Poll
Primary Content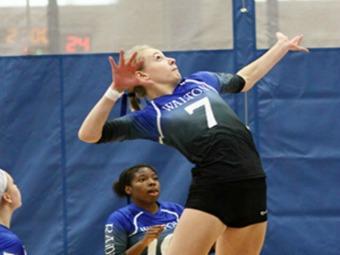 Six programs have taken home GHSA volleyball trophies this year and the names should surprise no one. Blessed Trinity won its second title in three years when the Titans knocked off St. Pius X to claim the Class AAA crown. St. Pius X was after its first ever volleyball title and knocked off 10-time champion Woodward Academy in the semifinals.
In Class A, Landmark Christian won its third title and the program's first since 2003. Landmark Christian edged Walker for the crown after dispatching No. 3 Savannah Christian in the semifinals.
Lovett pulled off quite the feat, knocking off five-time champion Wesleyan in five sets in the semifinals before rallying to bump off seven-time champ Westminster in the finals. Lovett won the first set, only to drop the next two, requiring a furious rally to win the match.
Class AAAA No. 1 Sandy Creek won its second straight title and third since 2008 with a 3-1 victory over Columbus.
In Class AAAAAA, Walton claimed its third straight title overall after winning the Class AAAAA crowns in 2010 and 2012. The Raiders managed to take down Harrison for the second straight year in the finals.
Finally, Whitewater needed four sets, but the Wildcats took out McIntosh to win the program's second title since 2009. Pope was upset early in the postseason but still finished No. 9 in the final rankings.
AAAAAA
1. Walton
2. Harrison
3. Johns Creek
4. North Cobb
5. Mill Creek
6. South Forsyth
7. Woodstock
8. Chattahoochee
9. Roswell
10. Brookwood
AAAAA
1. Whitewater
2. McIntosh
3. Lakeside-DeKalb
4. Starr's Mill
5. Northgate
6. Greenbrier
7. Harris County
8. Northside-Columbus
9. Pope
10. Allatoona
AAAA
1. Sandy Creek
2. Columbus
3. Southwest Whitfield
4. Marist
5. Veterans
6. Woodland
7. Carrollton
8. River Ridge
9. Heritage-Catoosa
10. South Effingham
AAA
1. Blessed Trinity
2. St. Pius X
3. Woodward Academy
4. Oconee County
5. Buford
6. Sonoraville
7. Cartersville
8. Ringgold
9. Islands
10. North Murray
AA
1. Lovett
2. Westminster
3. Wesleyan
4. GAC
5. St. Vincent's Academy
6. Westside-Augusta
7. Calhoun
8. Kendrick
9. Spencer
10. Rabun County
A
1. Landmark ChristianWalker
2. Walker
3. Savannah Christian
4. Hebron Christian
5. George Walton Academy
6. Holy Innocents'
7. ELCA
8. Savannah Country Day
9. Brookstone
10. North Cobb Christian
Secondary Content
Bottom Content