Section Branding
Header Content
Lovett, BT Win State Volleyball Titles
Primary Content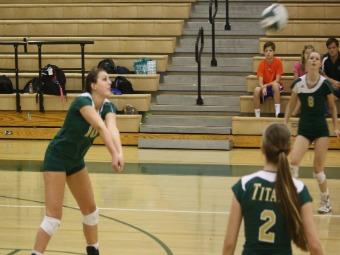 At the Class A-AAAA state volleyball championships at Marietta High School Saturday, Sandy Creek, Blessed Trinity, Lovett and Landmark Christian claimed state titles.
Class AAA No. 1 seed Blessed Trinity completed its magnificent season that saw coach Paul Stevens' Titans win 54 of 56 matches, including a streak in the area and state tournaments in which they did not lose a single set. However, Stevens himself admitted his team's three-set win over St. Pius in the finals was tough.
"It was a match that will go down as a sweep, but you can't have a closer 3-set match," said Stevens after the match. The Titans won each set by the minimum of two points.
Junior Molly McAlvany and senior Jessica Holler led the Titans with 12 kills each while Holley also contributed a team-best 2.5 blocks. Sophomore setter Maggie Rick had 34 assists and Amber MacDonald compiled 17 digs. Sister Ashley MacDonald dramatically came off the bench for the final serve, which led to Blessed Trinity's match-clinching point.
In Class AA , Lovett completed its Cinderella-esque run through the final four by beating neighborhood rival Westminster in the finals in five sets. It was the first time in three matches the Lions had defeated the Wildcats this season. Coach Mary Buczek's successful squad rallied from a 9-4 deficit in the fifth and final set to win 15-13. The Lions won nine straight points to lead 13-9 behind senior setter Gayle Jenks' serving that had the Wildcats back on their heels. Westminster knotted the match at 13, but junior outside hitter Mary Bethany Vincent clinched the match for Lovett with a kill. Despite being the lowest seeded team to make the semifinals in Class AA, Buczek's squad was confident it could win due to competitive matches with semifinals opponent Wesleyan and Westminster throughout the season.
"All four coaches in the semifinals knew it was anybody's championship," said Buczek after the match. "It was there for the taking."
In Class A, Landmark Christian won its third state title and first since 2003 after a 3-1 win over top-seeded Walker. In the finals, the victorious War Eagles were led by senior outside hitter Tiffany Creamer, who had 25 kills, 18 digs and four blocks in the match while freshman libero Jenny Luckie contributed 23 digs, Lilly Kessler dug 22 balls and junior setter Ellen Anderson had 43 assists. Kiersten Cusumano had four blocks in her last match as a War Eagle. After beginning the season 26-14, Landmark Christian reeled off 15 straight wins to end the season.
Secondary Content
Bottom Content