Section Branding
Header Content
St. Pius X Hosts Blessed Trinity On GPB.org
Primary Content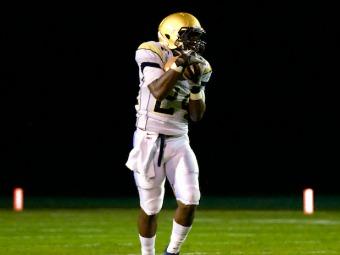 Blessed Trinity and St. Pius X are two programs that boast respected head coaches capable of inspiring their teams in big games. Tim McFarlin's Titans have played under the lights of GPB.org, WSB, Comcast and now once again in the GPB.org webcast of the week. In his second year with the program, the man who led Roswell to a share of the 2006 state title has Blessed Trinity in a strong position to host a playoff game. Blessed Trinity has won six straight games.
Senior quarterback Spencer McManes can make all of the throws and uses his big frame to bull the ball into the endzone on any short-yardage situation. Earlier this season against Decatur, McManes plunged into the end zone twice, both from short distances as the opposing defense could not stop him. The diminutive Tim Mertz is outstanding at finding holes and slithering through, and the defenses can rarely get a clean shot at the sneaky back. Finally, Milton Shelton may just be a freshman, but he already has "the look" of a great running back and could really blossom under McFarlin.
LIONS ROARING
St. Pius X coach Paul Standard has been with the Golden Lions since 2001 and recorded win No. 100 against Towers in September. The Golden Lions have dropped just two games this year, a seven-point loss to Thomson on Sept. 14 and last week to Woodward Academy. Fullback Ryan Braswell has paced the attack this season, recording three touchdowns against North Oconee and a school rushing record 283 yards against Cedar Grove. Braswell has been joined in the offensive backfield by junior running back Brandon Mitchell and quarterback Jack Spear. Spear is a threat with his legs as well as his arm. Nick Ruffin and Michael Sikorski are threats at receiver. Ruffin excelled at running back one year ago but has played some at receiver after standing out at various 7-on-7 camps over the summer.
Defensively, Nick Glass is not just one of the St. Pius X playmakers, he is also one of the nation's top juniors. Glass has committed to UGA and has helped the Golden Lions hold four opponents to six points or fewer this season and to four straight wins entering the Woodward Academy game. Sikorski is also a force on the defense, picking off two passes against North Oconee.
Secondary Content
Bottom Content