Section Branding
Header Content
Playoffs Separating Contenders, Pretenders
Primary Content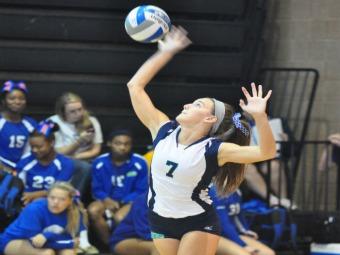 The cream is rising to the top across the state as the top 24 teams remain with a chance at GHSA volleyball championships. McEachern and Marietta will be the site this week as the titles are decided with the semifinals Wednesday and the A-AAAA finals taking place Saturday, Nov. 3 and the AAAAA and AAAAAA finals on Monday, Nov. 5.
In Class AAAAAA, No.1 Harrison, No. 2 Walton and No. 4 North Cobb give Cobb County three chances to claim the first AAAAAA title. No. 3 Johns Creek is also still alive for a shot at the crown. Walton beat Harrison for the AAAAA title one year ago. Walton has won the last two AAAAA titles.
In Class AAAAA, No. 1 Whitewater is after its first title since 2009. McIntosh is aiming for its first crown since 2007. Starr's Mill faces McIntosh in one semifinal match while No. 3 Lakeside-DeKalb faces Whitewater in the other.
In Class AAAA, No. 1 Sandy Creek is after a second straight crown and a third since 2008. The Patriots face No. 2 Southeast Whitfield in the semifinals with 2006 Class AAAA champion Marist potentially waiting on the other side of the bracket.
Blessed Trinity last won a state title in 2010, but the Class AAA No. 1 Titans face Oconee County with St. Pius X and Woodward Academy meeting in the other semifinal match. Woodward Academy has won 10 titles since 1993 and three since 2008.
In Class AA, Wesleyan and Westminster are each after titles and could meet in the finals if No. 2 Wesleyan can get past No. 4 Lovett and No. 1 Westminster can get by No. 3 GAC. Westminster has won seven titles since 1995 while Wesleyan has claimed five since 2004.
In Class A, only Landmark Christian has won a volleyball crown before, claiming two (2001, 2003). No. 1 Walker faces No. 3 Hebron Christian while No. Landmark Christian meets No. 4 Savannah Christian.
AAAAAA
1. Harrison
2. Walton
3. Johns Creek
4. North Cobb
5. Mill Creek
6. South Forsyth
7. Woodstock
8. Chattahoochee
9. Roswell
10. Brookwood
AAAAA
1. Whitewater
2. McIntosh
3. Lakeside-DeKalb
4. Starr's Mill
5. Northgate
6. Greenbrier
7. Harris County
8. Northside-Columbus
9. Pope
10. Allatoona
AAAA
1. Sandy Creek
2. Southeast Whitfield
3. Marist
4. Columbus
5. Veterans
6. Woodland
7. Carrollton
8. River Ridge
9. Heritage-Catoosa
10. South Effingham
AAA
1. Blessed Trinity
2. Woodward Academy
3. St. Pius X
4. Oconee County
5. Sonoraville
6. Buford
7. Cartersville
8. Ringgold
9. Islands
10. North Murray
AA
1. Westminster
2. Wesleyan
3. GAC
4. Lovett
5. St. Vincent's Academy
6. Westside-Augusta
7. Calhoun
8. Kendrick
9. Spencer
10. Rabun County
A
1. Walker
2. Landmark Christian
3. Hebron Christian
4. Savannah Christian
5. George Walton Academy
6. Holy Innocents'
7. ELCA
8. Savannah Country Day
9. Brookstone
10. North Cobb Christian
Secondary Content
Bottom Content