Section Branding
Header Content
Chattahoochee Looking To Make Late Noise
Primary Content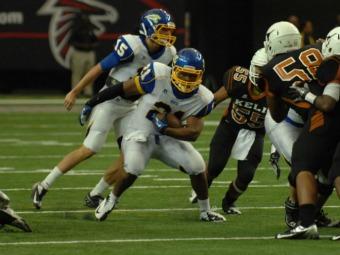 Thomson just keeps winning. It seems like every week the Bulldogs have another tough opponent on the schedule, but come Monday morning we are talking about the latest quality win by Thomson. Friday night's 28-14 win at No. 2 Washington County may have been its most impressive win of the year. Milan Turner's squad marched into the House of Pain and came away with a convincing 28-14 win and, quite probably, the Region 3-AAA title. Behind No. 1 Peach County, Thomson has cemented itself as one of two favorites in Class AAA as we approach the postseason.
Brooks County took down No. 5 Cook 35-21 to win Region 1-AA. After a week off the Trojans need a win over Berrien to clinch an undefeated regular season. Malcolm Parrish accounted for three touchdowns and 122 total yards for Brooks County.
No. 7 West Forsyth fell for the first time Friday night as Terry Crowder's Chattahoochee squad pulled off a 29-28 upset. The Cougars have been a strong program under Crowder and proved that they are still a team to be respected Friday night in Alpharetta. With the win, "the Hooch" moved into a fourth-place tie with surprising Centennial while the Wolverines fell into a tie with Johns Creek and Alpharetta at the top of Region 6-AAAAAA. The Cougars have games left against Lambert and Centennial which will decide Chattahoochee's playoff fate.
Secondary Content
Bottom Content