Section Branding
Header Content
Eagles Look To Soar Past Bulldogs On GPB.org
Primary Content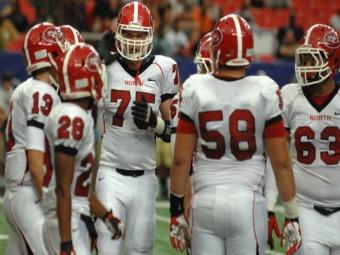 While Norcross appears to be on the inside track to the Region 7-AAAAAA title, Collins Hill will be the stage Friday that could determine the other team out of the region that claims at least one home game in the postseason. The host Eagles will face the Bulldogs of North Gwinnett as both teams enter the contest 4-1 in region play. Collins Hill quarterback Brett Sheehan, the newest member of the Score 44, will face a defense led by fellow Score 44 standout Donnie Miles, future Maryland Terp Jalen Brooks, Score 24 2Look4 candidate Dante Sawyer and plenty of other incredible athletes capable of turning a game in a moment's notice. C.J. James recorded a pick-six last week against Habersham-Central and Tony Bradford came up with perhaps the biggest defensive play of the day in North Gwinnett's win over Colquitt County in the Corky Kell Classic. North Gwinnett's 3-3-5 defense is quick and attacking, led by Sawyer up front, Brooks at linebacker and Miles in the secondary. Brooks is a former defensive back that has been moved up to the second level of the defense. Miles, meanwhile, is still a star in the secondary and has seemingly been making plays for years.
Offensively, the Bulldogs have finally found a running game with Cam Lewis behind a huge offensive line including Andy Kwon, Alex Stoehr and Devondre Seymour. Lewis was moved from the slot to the one-back in Bob Sphire's offense and has excelled. He carried 17 times for 118 yards and two touchdowns against Mill Creek. Michael Haynes has embraced the quarterback role and could well be the next great Sphire signal caller. He was 18-for-21 for 197 yards and a pair of scores while also rushing for 83 yards on seven carries in the Bulldogs last win.
Sheehan was even more impressive in the Eagles' last game, a Collins Hill 56-10 win. The FIU pledge passed for five scores and 304 yards in the first half against Meadowcreek. Sheehan was 17-of-19 before sitting out the second half of the victory. North Gwinnett's five defensive backs will need to be on their game in order to slow receivers such as Julian Williams, Justin Wyatt, Rhyan England and Grant McDonald.
Collins Hill also features an incredible rushing attack with Tyler Henderson sporting incredible power from his 5-foot-9 frame. Look for him to run through holes opened by junior sensation Christian Harris, perhaps the best player on an offensive line loaded with seniors.
Will Collins Hill be able to finally beat North Gwinnett for the first time since 2005 or will the Bulldogs continue to own the Eagles? Both teams are capable of making deep runs into the playoffs but a win Friday will make the early road easier.
Secondary Content
Bottom Content