Section Branding
Header Content
Upsets Scramble Class AAA Volleyball Poll
Primary Content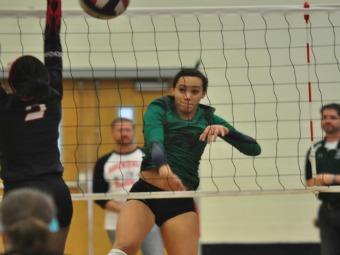 The higher seeds in Class AAA were in serious danger in the first round of the GHSA volleyball playoffs as four higher seeds fell in various upsets. No. 9 Buford bounced Hart County while Area 3 No. 1 Henry County fell to Ringgold. Jackson and Chapel Hill were also victims of the upset bug.
In Class AAAAAA, North Gwinnett fell to No. 8 Chattahoochee while East Coweta and Hillgrove also dropped from the rankings after losing in the first round. Roswell and North Cobb returned to the polls at No. 9 and 10, respectively.
In Class AAAAA, Union Grove was dropped by Houston County as Harris County took advantage of the open slot to slide in to No. 10 in this week's poll.
Class AAAA No. 9 Heritage-Catoosa beat Walnut Grove, ranked No. 8 last week. Carrollton moves into the rankings at No. 10.
Rabun County topped Armuchee to advance in the Class AA playoffs and also to take the Indians' spot in the rankings. Armuchee was No. 10 last week. Jefferson dropped out of the top 10 after falling to No. 3 Calhoun.
In Class A, last week's No. 9 team Strong Rock Christian fell to No. 1 Walker in Round 1 of the playoffs, ending the Patriots' season. North Cobb Christian is No. 10 in this week's poll.
AAAAAA
1. Harrison
2. Walton
3. Johns Creek
4. Camden County
5. Mill Creek
6. South Forsyth
7. Brookwood
8. Chattahoochee
9. Roswell
10. North Cobb
AAAAA
1. Whitewater
2. Pope
3. Greenbrier
4. McIntosh
5. Northview
6. Apalachee
7. Allatoona
8. Northgate
9. Lakeside-DeKalb
10. Harris County
AAAA
1. Veterans
2. Sandy Creek
3. Woodland-Henry
4. Southeast Whitfield
5. South Effingham
6. Marist
7. Jonesboro
8. River Ridge
9. Heritage-Catoosa
10. Carrollton
AAA
1. Blessed Trinity
2. Woodward Academy
3. Sonoraville
4. Oconee County
5. St. Pius X
6. Islands
7. Cartersville
8. Ringgold
9. Buford
10. North Murray
AA
1. Westminster
2. Wesleyan
3. Calhoun
4. Kendrick
5. St. Vincent's Academy
6. Greater Atlanta Christian
7. Westside-Augusta
8. Lovett
9. Spencer
10. Rabun County
A
1. Walker
2. Landmark Christian
3. Hebron Christian
4. Savannah Christian
5. George Walton Academy
6. Savannah Country Day
7. ELCA
8. Holy Innocents'
9. Brookstone
10. North Cobb Christian
Secondary Content
Bottom Content