Section Branding
Header Content
Cook, Alcovy Fall In Latest Softball Poll
Primary Content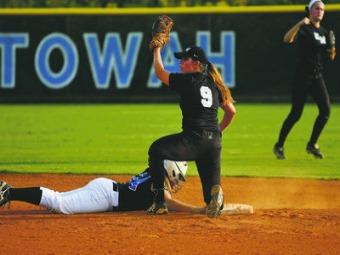 The playoffs are really getting serious with only eight teams remaining in each classification. Class AAAAAA No. 1 Kennesaw Mountain and No. 2 East Coweta advanced to Columbus while Alcovy, Peachtree Ridge, Milton and North Gwinnett each saw their seasons end. Lassiter moved up to No. 3 while Archer is the new No. 4. Collins Hill rounds out the top five.
In Class AAAAA, No. 9 Heritage-Conyers fell to No. 6 Pope while No. 10 Kell lost to No. 2 Allatoona. No. 5 Whitewater and No. 1 Union Grove also advanced.
In Class AAAA, No. 1 Northwest Whitfield advanced past Carrollton while Lumpkin County upset No. 10 Marist. Rutland is also new to the poll after beating Spalding.
No. 9 Pierce County took No. 6 Pike County to three games in Class AAA while No. 10 Franklin County pushed No. 1 Buford to a third game with an 8-0 win in Game 2.
In Class AA, former No. 1 Cook fell to No. 6 Vidalia 5-4, 5-4 to drop to No. 9. Jeff Davis checks in at No. 8.
In Class A, the private and public brackets are underway. No. 9 Eagles' Landing Christian and No. 5 Prince Avenue Christian were impressive in the opening round.
AAAAAA
1. Kennesaw Mountain
2. East Coweta
3. Lassiter
4. Archer
5. Collins Hill
6. Mill Creek
7. Hillgrove
8. Harrison
9. Alcovy
10. North Gwinnett
AAAAA
1. Union Grove
2. Allatoona
3. Greenbrier
4. Northgate
5. Whitewater
6. Pope
7. South Paulding
8. Loganville
9. Heritage-Conyers
10. Kell
AAAA
1. NW Whitfield
2. Madison County
3. Columbus
4. Wayne County
5. West Laurens
6. South Effingham
7. Rutland
8. Lumpkin County
9. Heritage-Catoosa
10. Marist
AAA
1. Buford
2. Ringgold
3. Jackson
4. Blessed Trinity
5. Central-Carroll
6. Pike County
7. Jackson County
8. Chapel Hill
9. Pierce County
10. Franklin County
AA
1. Wesleyan
2. Heard County
3. Bacon County
4. Harlem
5. Bremen
6. Vidalia
7. Dade County
8. Jeff Davis
9. Cook
10. Calhoun
A
1. Gordon Lee
2. Seminole Co
3. Telfair County
4. Savannah Christian
5. Prince Avenue Christian
6. Mt. Pisgah
7. Miller County
8. Seminole County
9. ELCA
10. George Walton Academy
Secondary Content
Bottom Content