Section Branding
Header Content
Harrison, BT Search For State Gold
Primary Content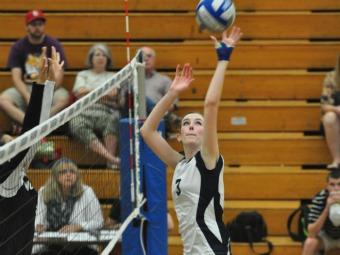 Tonight, it all begins. For volleyball squads throughout the state of Georgia, this is the most important time of the year: the state playoffs. From now until Nov. 5, Georgia's best will square off to find out which teams are best in the state's six classifications.
Class AAA No. 1 Blessed Trinity is a program with high hopes of winning the state title. Coach Paul Stevens' Titans have two state championships in their history, in 2006 (AAA) and 2010 (A-AA). But Stevens' squad will face a gauntlet in the playoffs should it advance to the finals.
Blessed Trinity happens to be in the same classification as state powerhouse Woodward Academy, which has won eight state championships since 2001, including three since 2008. However, the Titans defeated Woodward Oct. 2 in convincing fashion (25-12, 25-17).
"We don't know who we're going to see again," said Stevens. "We've gotta take it one match at a time. We've obviously got to play North Oconee (tonight), and see where things go, but I'll be honest, I don't really root for or against any other teams, we take it one match at a time and just try to prepare for that opponent as best as we can and go forward from there."
Taking it one game at a time is a challenge for programs like Blessed Trinity. The Titans are 50-2 and have lost just one match to a team from the state of Georgia, a 2-1 loss on Oct. 6 to Class AAAAA No. 4 McIntosh. Stevens has the task of keeping his team focused on each and every match, and not looking ahead to whom they may face deeper in the playoffs should they advance that far.
"We set lofty goals for ourselves at the beginning of the year and now in the home stretch, it's really just a matter of keeping those same goals in the forefront of their minds," said Stevens before heading into the playoffs. "The captains have done a great job setting that tone for the team."
Class AAAAAA No. 1 Harrison has a similar outlook as the Titans. Coach Clay Taylor's program dominated Class AAAAA last season before being upset by Walton in the state finals in five sets. The Hoyas had lost just one match all season to a team from AAAAA.
"Our team is very focused and business-like," said Taylor on the eve of the playoffs. "Our practices have been productive, but also light-hearted and fun. The players feel as if they have some unfinished business from last season."
The Hoyas' lone loss to a Class AAAAA squad came in mid-August against Walton. Since then, they have been dominant in the state's largest classification. Despite their near-perfect play, however, Taylor thinks his team can still improve in certain aspects of the game.
"Our team is working on being more aggressive in every phase of the game," said Taylor. "Passing and controlling the pace of the game as well as finishing plays. Minimizing unforced errors is a focus in our workouts. We do not look past our current opponent and the brackets make it difficult to do that anyway since you don't really know how teams will perform and who will advance."
Taylor's team plays Lassiter in the first round tonight.
Secondary Content
Bottom Content