Section Branding
Header Content
Brooks County Looks Like The Real Deal
Primary Content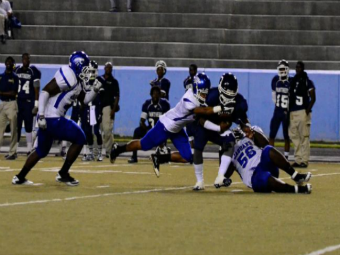 No. 2 Brooks County proved they are for real and will challenge for the state title after a 27-24 win over No. 4 Fitzgerald. The two Region 1-AA programs have both had solid seasons, but the Trojans' win puts them in the catbird seat ahead of both the Purple Hurricanes and Cook, which has one loss in region play. Brooks County hosts Cook on Oct. 26 for a chance to win the region outright.
Class AAAAA No. 2 Stephenson won a huge game Friday night in its first-ever game against perennial DeKalb-power Tucker, as the Jaguars shut down the county's most potent rushing attack in a 13-6 slugfest. Ron Gartrell's squad handed the Tigers two things they aren't used to: single-digit points and a loss. The Tigers had won 20 straight heading into the game Friday night, a run that stretched back to 2010. Tucker had also been averaging a whopping 48 points per game. Along with Northside-Warner Robins, the Jags look like a serious contender in Class AAAAA.
Don't worry, Coach Chumley has it under control at Savannah Christian. Donald Cumley's Raiders upset Class A No. 5 Calvary Day to send a message that, even though they are young and started the season 0-2, they are still a major player. SCPS rallied behind freshman QB Chase Marini and RB Jalen Myrick to score with 3:15 left in the 21-20 affair. The Raiders are now tied with Jenkins County in first place in Region 3-A-A while the Cavaliers dropped to 5-1 (1-1). SCPS hosts Jenkins County on Oct. 26.
West Forsyth may be the biggest surprise in Class AAAAAA. The No. 7 Wolverines beat possibly their biggest challenger yet in previously unbeaten Johns Creek 37-16 Friday in Cumming. QB A.J. Erdely cemented his reputation as one of the top signal-callers in the state by rushing for 131 yards and two scores (52 and 1). The MTSU commit also threw for 136 and a score. West Forsyth (6-0, 3-0) now owns sole possession of first place in Region 6-AAAAAA with games left against second place teams Chattahoochee (Oct. 26) and Lambert (Nov. 9).
Secondary Content
Bottom Content