Section Branding
Header Content
Buford, KMHS Softball Teams Rolling Along
Primary Content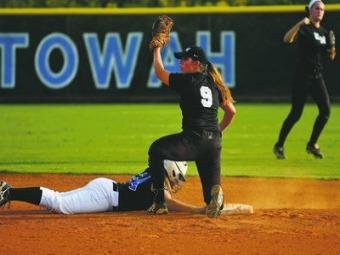 Buford and Kennesaw Mountain are sitting in the proverbial "catbird seat" right now in the world of high school softball. Each team is ranked No. 1 in its respective classification (AAA for the Wolves and AAAAAA for the Mustangs).
But Kennesaw Mountain
coach Lisa Chapman and Tony Wolfe of Buford know that rankings don't mean much come October.
"Rankings are nice, you know?" said Chapman. "But the final rankings at the end of October are what really matters. So we try to emphasize to the girls the importance of playing at our level every game and not looking past any opponent."
While playing well this time of year means a lot, Wolfe pointed to the process that leads up to the playoffs being as important as the actual state tournament.
"I think it's a process from August to October, and you can't wait until October to get ready," said Wolfe. "You try to play a great schedule and try to improve every day at practice. We try to practice on the things we're going to have to do over and over in playoff games and try to be as prepared as we can for them."
WOLFE'S WOLVES
Buford has had success in the state tournament many times. The Wolves have won the last five Class AA state titles and are now looking for their first in AAA. In fact Buford recently won its 300th game as a program, a big accomplishment considering how recently the fast-pitch program was started.
"It speaks volumes about the program," said Wolfe. "We started playing fast-pitch in 2002 and, basically, this is Year 10 or 11 that we've been able to get to 300. Coach Brandon Manders is the guy who converted the program from slow-pitch to fast-pitch, and to get to 300 wins so quickly says a lot about the job he did."
Now in the postseason, Wolfe said that one position tends to matter quite a bit in determining what teams have success.
"It starts in the circle for each and very team," he said.
Buford has one of the top pitchers in the state in Bria Bush, a sophomore who is 15-2. As a freshman, Bush helped the Wolves to their fifth consecutive state title.
"Bush has been really good for us again this year," said Wolfe. "Her ability, her poise and her competitiveness make her a special pitcher and she gives us a chance pretty much every night she goes out."
In the Region 7-AAA championship game against Fannin County, Bush tossed a complete game for her 15th win of the season. Sophomore Jordan Deep hit a two-run homer and junior Niki Cook stole three bases.
MUSTANG MAYHEM
Meanwhile, Kennesaw Mountain recently accomplished a milestone of its own. The Mustangs compete in the highly-competitive Region 4-AAAAAA in Cobb County and, while being one of the top programs in the region year after year, Chapman's club just won its second region tournament title in 13 years.
"It was a pretty big deal for us," said Chapman. "It was something that we work toward every year. We've been region runner-up on several occasions, so it was definitely something. One of our goals this year was to get a region championship, so it's always an exciting time for our school and community when you can win a region championship."
The Mustangs are led by pitcher Bekah Farris, a senior who is 17-2 with a 1.11 ERA in the circle. At the plate, Farris sports a .344 average with eight triples. Junior shortstop Malea Bell is hitting .425 and leads the team with 37 doubles and 32 RBIs while second baseman Chandler Stooksbury has 35 doubles and 29 RBIs.
Both Kennesaw Mountain and Buford advanced past the first round of the playoffs with two-game sweeps this past Wednesday.
Secondary Content
Bottom Content