Section Branding
Header Content
Harrison Moves To Top Spot In AAAAAA
Primary Content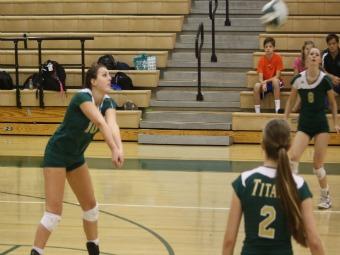 The Harrison Hoyas went 9-0 last week with wins over Hillgrove, Mill Creek, Roswell, ELCA and St. Pius X to move up to No. 1 in the latest Class AAAAAA poll. Walton slipped to No. 2 after beating Sandy Creek but going 2-2 against non-Georgia foes. North Gwinnett and Mill Creek flipped spots and Camden County moved into the poll at No. 10 after going 4-0 on Saturday.
Class AAAAA No. 8 Union Grove went 1-1 against No. 7 Ola but managed to take down Class AAAA No. 3 Woodland-Henry and Locust Grove. No. 9 North Paulding continues to dominate area play while Apalachee managed to stick in the No. 10 spot over Creekview.
Despite wins over East Coweta and Columbus, Sandy Creek stayed at No. 2 in Class AAAA behind Veterans. Woodland-Henry won a pair of matches in the Henry County tournament to stay in the top three.
Class AAA continues to be top-heavy with No. 1 Blessed Trinity, No. 2 Woodward Academy and No. 3 St. Pius X at the top. Sonoraville checks in at No. 4 as the best of the rest. No. 7 East Hall picked up a pair of nice wins against No. 8 West Hall and No. 9 North Oconee.
Westminster topped Norcross and Northgate to steal the No. 1 spot in AA away from Wesleyan. St. Vincent's Academy has been on fire as of late and moved up into the No. 7 spot.
In Class A, Walker suffered through a rough week; however, Walker stayed No. 1 because the losses came against stout competition. George Walton Academy is No. 2 in the rankings, followed by Savannah Country Day. The Hornets knocked off No. 6 Savannah Christian. Providence Christian, Strong Rock Christian and Gordon Lee round out the Class A rankings.
AAAAAA
1. Harrison
2. Walton
3. North Gwinnett
4. Mill Creek
5. Hillgrove
6. Johns Creek
7. North Cobb
8. South Forsyth
9. Camden County
10. Lambert
AAAAA
1. Whitewater
2. Pope
3. McIntosh
4. Northview
5. Northgate
6. Greenbrier
7. Ola
8. Union Grove
9. North Paulding
10. Apalachee
AAAA
1. Veterans
2. Sandy Creek
3. Woodland-Henry
4. Southeast Whitfield
5. Heritage-Catoosa
6. Jonesboro
7. South Effingham
8. Walnut Grove
9. Shaw
10. Marist
AAA
1. Blessed Trinity
2. Woodward Academy
3. St. Pius X
4. Sonoraville
5. Hart County
6. Oconee County
7. East Hall
8. West Hall
9. North Oconee
10. Cartersville
AA
1. Westminster
2. Wesleyan
3. GAC
4. Calhoun
5. Jefferson
6. Kendrick
7. St. Vincent's Academy
8. Westside-Augusta
9. Coosa
10. Lovett
A
1. Walker
2. George Walton Academy
3. Savannah Country Day
4. Landmark Christian
5. Hebron Christian
6. Savannah Christian
7. ELCA
8. Providence Christian
9. Strong Rock Christian
10. Gordon Lee
Secondary Content
Bottom Content