Section Branding
Header Content
Region Playoffs Jumble Softball Polls
Primary Content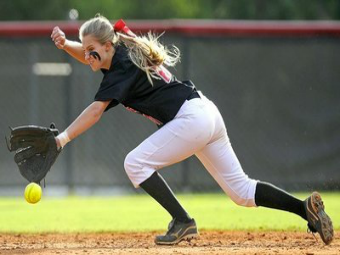 The latest softball rankings saw plenty of teams rising and others falling based on the results of region tournament action. Kennesaw Mountain moved up to the No. 1 spot in Class AAAAAA with East Coweta moving up to No. 2. Former No. 1 Lassiter fell to No. 6, behind Brookwood, Alcovy and North Gwinnett. No. 7 Archer checked in ahead of Peachtree Ridge and No. 9 Lowndes moved in after beating Tift County.
Union Grove kept hold of the No. 1 spot in Class AAAAA after winning a region title. Allatoona moved up to No. 2 with Greenbrier in at No. 3 after winning a region crown. Northgate dropped to No. 4 and Heritage-Conyers to No. 5 after each lost in the region championship series. No. 7 Pope, No. 9 Loganville and No. 10 Dunwoody each took advantage of winning region titles.
In Class AAAA, Northwest Whitfield, Madison County and Columbus sit atop the poll with Wayne County moving up to No. 4. Heritage-Catoosa fell to No. 5 after losing in the region playoffs to Northwest Whitfield. Crisp County is new to the poll, checking in at No. 9.
Class AAA No. 1 Buford, No. 2 Ringgold, No. 3 Jackson, No. 4 Blessed Trinity, No. 5 Pierce County, No. 6 Central-Carroll and No. 9 Dodge County all won region titles while No. 8 Tattnall County fell to Pierce County in the finals.
In Class AA, Cook took a huge leap up to No. 1 after claiming a region title as most of the teams at the top of last week's poll failed to claim a region title. No. 2 Wesleyan fell to Westminster and Bacon County and Heard County each dropped a spot as well. Harlem moved up to No. 5 after winning the Region 3-AA title. Bowdon, Calhoun and Jefferson each moved up after wining region titles.
Seminole County moved up to No. 2 in Class A, behind No. 1 Gordon Lee. Makayla Clark has been on fire for No. 3 Telfair County and No. 4 Savannah Christian won a region title over the weekend. Eagle's Landing Christian Academy and Prince Avenue Christian round out the rankings.
AAAAAA
1. Kennesaw Mountain
2. East Coweta
3. Brookwood
4. Alcovy
5. North Gwinnett
6. Lassiter
7. Archer
8. Peachtree Ridge
9. Lowndes
10. Collins Hill
AAAAA
1. Union Grove
2. Allatoona
3. Greenbrier
4. Northgate
5. Heritage-Conyers
6. Whitewater
7. Pope
8. South Paulding
9. Loganville
10. Dunwoody
AAAA
1. NW Whitfield
2. Madison County
3. Columbus
4. Wayne County
5. Heritage-Catoosa
6. Carrollton
7. Walnut Grove
8. West Laurens
9. Crisp County
10. South Effingham
AAA
1. Buford
2. Ringgold
3. Jackson
4. Blessed Trinity
5. Pierce County
6. Central-Carroll
7. Dawson County
8. Tattnall County
9. Dodge Co
10. Franklin County
AA
1. Cook
2. Wesleyan
3. Heard County
4. Bacon County
5. Harlem
6. Bremen
7. Bowdon
8. Calhoun
9. Jefferson
10. Berrien
A
1. Gordon Lee
2. Seminole Co
3. Telfair County
4. Savannah Christian
5. Calvary Day
6. Mt. Pisgah
7. Johnson County
8. Miller County
9. ELCA
10. Prince Avenue Christian
Secondary Content
Bottom Content