Section Branding
Header Content
Reach Has Collins Hill A Contender Again
Primary Content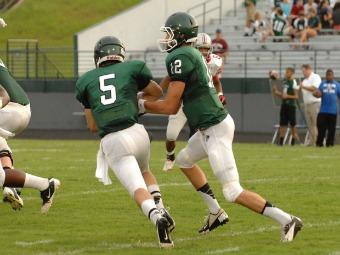 Collins Hill is legit this year as Kevin Reach has retooled this team just two years after reaching the Class AAAAA semifinals. Much like the 2010 team, the 2012 Eagles have a senior quarterback capable of strapping a team to his back and carrying it where it needs to be, but the Eagles also have plenty of other weapons to help out the offense. While Brett Sheehan stands as the most underrated quarterback in the Class of 2013, running back Tyler Henderson also deserves plenty of credit as do the fine receivers. The Eagles pulled away from Peachtree Ridge in the third quarter of a 41-10 win after dominating Mountain View the week before, but this Friday's game against Norcross could be for the Region 7-AAAAAA title.
Brendan Douglas plays in all three phases of the game for Aquinas and he will be needed this Thursday if Class A No. 1 Aquinas is to snap its 31-game losing streak dating back to 1973 to No. 3 Lincoln County. The Irish running back/defensive back/punter rushed for 100 yards after halftime in Aquinas' 31-6 win over Hancock Central Friday. He also scored three touchdowns and recovered a fumble.
The window for beating Class AAA No. 3 Buford may officially be shut. After opening up the season with a tough 14-3 win in rainy conditions against Elbert County, the Wolves fell at home for the first time since 2006 in a 19-15 loss to Gainesville. The Buford roster is loaded with sophomores and juniors, and while the future looked bright for the Wolves, many teams figured they could make hay in the present. Buford responded to that loss with three straight shutouts, outscoring Hancock Central, Banks County and West Hall a combined 167-0 over the past three games. Jess Simpson earned career win No. 100 in the victory over West Hall.
Coaches preach that eliminating penalties and turnovers will lead to victories and the Bainbridge staff can use the film from Friday's game as direct evidence to that motto after Thomas County Central defeated Bainbridge 17-14. Bainbridge was flagged 11 times, including once on a punt returned for a score that was wiped away on an illegal block behind the play. In overtime Bainbridge fumbled the ball away to the Yellow Jackets, allowing Thomas County Central to kick a field goal and escape with a victory.
Secondary Content
Bottom Content