Section Branding
Header Content
Parkview, Walker Debut In Latest Rankings
Primary Content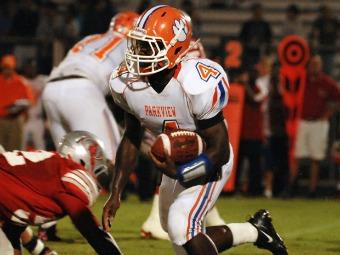 Lassiter trailed east Cobb-rival Walton at halftime but rallied with two touchdowns in the second half for a 21-9 win in the Super Bowl of East Cobb III. The Trojans stayed at No. 2 in the Class AAAAAA poll, behind Camden County and ahead of Grayson, who shut out Central Gwinnett. Lowndes also won its final Winnersville Classic tuneup in dominating fashion. No. 9 Parkview and No. 10 Johns Creek are the two newest names in the AAAAAA poll.
Jonesboro moves into the Class AAAA poll with a win over North Clayton as idle Stephens County slides out. Marist remains at No. 2 behind Sandy Creek at the top of AAAA.
The first six teams in Class AAA did not change but Cartersville moved up to No. 7 after new No. 10 Pierce County beat Appling County, which fell from the rankings. No. 9 Blessed Trinity will host Decatur on the GPB.org webcast this Friday.
Class AA No. 4 Fitzgerald took out former No. 2 Cook over the weekend, enabling Brooks County to move up to the No. 2 spot behind Calhoun. New No. 5 Lamar County also knocked off previously-unbeaten Northeast-Macon. Benedictine, Jefferson and Bleckley County round out the top 10 in Class AA.
In Class A, No. 1 Aquinas and No. 3 Lincoln County will meet this Thursday. Athens Academy moved to No. 7 after beating No. 8 Prince Avenue Christian. Walker checks in at No. 10.
Class AAAAAA
1. Camden County
2. Lassiter
3. Grayson
4. Lowndes
5. Norcross
6. Lovejoy
7. West Forsyth
8. North Gwinnett
9. Parkview
10. Johns Creek
Class AAAAA
1. Tucker
2. Northside-WR
3. Stephenson
4. East Paulding
5. ML King
6. Gainesville
7. Thomas County Central
8. Kell
9. Lee County
10. Allatoona
Class AAAA
1. Sandy Creek
2. Marist
3. Burke County
4. Monroe Area
5. Grady
6. Statesboro
7. Washington
8. Carrollton
9. Griffin
10. Jonesboro
Class AAA
1. Peach County
2. Washington County
3. Buford
4. Thomson
5. St. Pius X
6. Carver-Columbus
7. Cartersville
8. Gordon Central
9. Blessed Trinity
10. Pierce County
Class AA
1. Calhoun
2. Brooks County
3. Vidalia
4. Fitzgerald
5. Lamar County
6. Cook
7. Heard County
8. Benedictine
9. Jefferson
10. Bleckley County
Class A
1. Aquinas
2. ELCA
3. Lincoln County
4. ECI
5. Calvary Day
6. George Walton Academy
7. Athens Academy
8. Prince Avenue Christian
9. Wilcox County
10. Walker
Secondary Content
Bottom Content