Section Branding
Header Content
Printz Leads Lassiter Past Walton
Primary Content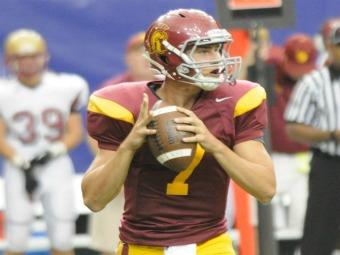 The third installment of the Super Bowl of east Cobb matched up No. 2 Lassiter and No. 6 Walton, only this time the two teams met at The Frank instead of Raider Valley. Last year Walton won both games at home, including the second contest in the Class AAAAA semifinals. Lassiter found out that hosting the Super Bowl of east Cobb is more fun in a 21-9 victory over the Raiders on Homecoming.
Lassiter's Eddie Printz led the Trojans down the field with great precision on the game's opening drive with Lane Jackman punching in the touchdown from seven yards out for an early lead.
Walton would eventually settle down after an early Price Wilson interception, picking off a Printz pass in the end zone to thwart a Lassiter scoring chance. Wilson would plow in from one yard out to pull Walton to within one after running back Tyren Jones finally got cranked up against his former team.
The future Alabama running back was back at The Frank for the first time since leaving the program for Walton. Chants of "We don't need you!" echoed throughout the pregame warmups and it took a while for Jones to get going, much to the delight of the Lassiter crowd. Jones momentarily silenced the Lassiter faithful with minutes to go before halftime and Walton holding a 9-7 lead by flipping the field with a 51-yard run. Two plays later, Jones, who was nursing an injured wrist following a car accident earlier this week, fumbled the ball as he was just yards away from the end zone.
Lassiter's defense stuffed Walton to open the second half and quickly seized the lead with a Printz touchdown scramble for a 14-9 advantage. In the fourth quarter, Lassiter put the cherry on top as Hakim Shahid reached paydirt on fourth down from the one, stretching the lead to 21-9.
Printz did not record a touchdown pass but did notch the go-ahead score with his legs. Wilson also ran in Walton's score but threw two costly interceptions, including one in the end zone. Lassiter's Trent Gantt finished with a pair of sacks and the title Homecoming King. The Lassiter secondary was impressive and could once again be the unit that leads the Trojans deep into the playoffs much like the 2011 secondary did.
Lassiter has an off-week next week before traveling to Milton for a huge Region 5-AAAAAA showdown. Both teams are 3-0 in region play. Walton faces Milton later on in the year and may need to win that game to host a playoff game.
Secondary Content
Bottom Content