Section Branding
Header Content
Walton, Lassiter Vie In East Cobb Super Bowl
Primary Content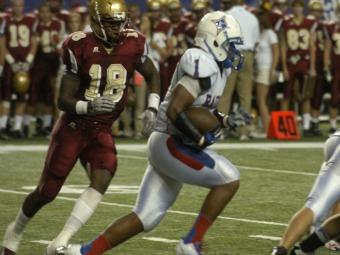 It has been called "The Super Bowl of east Cobb." And tonight, in Frank Fillman Stadium, two intense rivals will get together with region, playoff and top-10 implications in the balance.
RECENT RIVALS ...
Lassiter and Walton have not always been arch-rivals. In fact, each has traditional rivalries that have much more history than the Raiders-Trojans game. But since Pope, Sprayberry and Kell were moved one classification down in 2010, the Lassiter-Walton has moved to the forefront of all east Cobb rivalries.
"It's good to have a rival, and it's good that that rival is playing well," said third-year Lassiter head coach Jep Irwin. "It's good for both programs."
Since then, the Trojans have been to the postseason each year, including a quarterfinals appearance in 2009 and a semifinals appearance in 2011. Walton, a perennial playoff team for much of its history, finally broke through to the state finals last season after 30 years of consistent postseason berths.
Last year's playoff game between the two programs was almost certainly the most important game in the rivalry's history. The Raiders held on fourth down inside their 10 with less than a minute remaining to preserve a 30-24 win. Raiders running back Tyren Jones, who transferred from Lassiter after his sophomore season, rushed for 187 yards on 23 carries.
While Jones has impressed so far in his senior year, Lassiter quarterback Eddie Printz has also been lighting up the stat sheet. The Trojans went into their game last Friday against Woodstock averaging roughly 42 points per game, while Printz had thrown for 1,057 yards and 12 touchdowns
But Irwin is quick to give credit to the rest of the team.
"We have a very talented group of skill players, but we also have a very experienced group of offensive linemen," said Irwin. "Really, our defense has been kind of the unsung hero because they've helped us get leads early in the game, too, by not allowing teams to score. I'm not sure we've allowed a first-quarter point all year."
Meanwhile, Jones leads Region 5-AAAAAA through four games with 935 rushing yards and 11 touchdown. The Alabama commitment has been the heart and soul of the Raiders' this year, as the defense has given up 115 points, including 108 in the first three games.
Secondary Content
Bottom Content