Section Branding
Header Content
Chattahoochee To Battle Johns Creek On GPB
Primary Content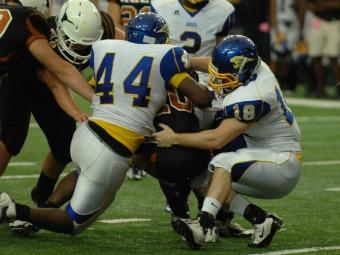 Some rivalries are made after decades of competition. Others become heated before a game is ever played.
The Chattahoochee-Johns Creek rivalry can be considered the latter. While the Hooch began playing in 1991, Johns Creek was built more recently and took a large chunk of the Cougars' school district – and football team – with it.
"I'm pretty familiar because probably half their kids went to Chattahoochee before Johns Creek was open and we know that the quarterback and the running back are really good football players," said Chattahoochee coach Terry Crowder.
NATURAL RIVALS
As if geography weren't enough, the two programs have already played some games with white-hot intensity. Last year, Chattahoochee won a 19-16 game in overtime in just the second meeting between the schools in history. As if the narrow loss to their neighborhood rival wasn't bad enough, it also gave the Gladiators their first loss of the season.
"We're just going to make sure the kids understand that they're not going to forget that," said Crowder. "They're going to remember that game, probably more so than us. We'll do all the things that we need to get ready for that game."
Coming into last Friday night's game against North Forsyth, the Cougars were 2-1 with shutout wins over Douglas County and Forest Park. After a 19-8 season-opening loss to Kell, Crowder's squad has rebounded nicely.
"We feel like we played very good defensively in the Kell game, as well as the last two games, so we're excited about the defense right now," said Crowder.
Specifically, Chattahoochee has gotten important contributions from a few guys on the defensive side of the ball.
"Probably the biggest surprise right now for us has been the play of our Mike linebacker Josh Weisberg, who is a sophomore," said Crowder. "Our defensive line is probably the best total group since I've been here, with Majeed Bilal, O.J. Thompson and John Sanders. Those three are playing really good right now."
Johns Creek entered last Friday's game with Centennial undefeated after wins over Woodstock and Milton. Both teams will have played a region contest before next Friday's clash at The Arena, but the Johns Creek-Chattahoochee game is sure to have major Region 6-AAAAAA title and playoff implications.
The North Fulton game will begin at 8 p.m. with pregame airing at 7:30 p.m. on GPB-TV.
Secondary Content
Bottom Content