Section Branding
Header Content
Cobb Championships Shake Up Volleyball Poll
Primary Content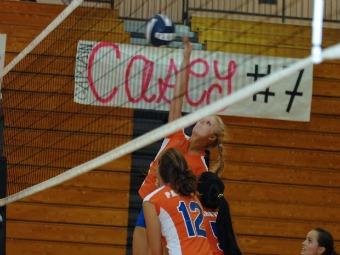 Some of the top programs in Cobb squared off in the recent Cobb County Invitationals with Pope walking away with a fifth-straight crown. The Class AAAAA No. 2 Greyhounds defeated Class AAAAAA No. 2 Harrison in the finals after knocking off Class A No. 1 Walker and Lassiter. Walker had previously beaten Class AAAAAA No. 6 North Cobb. No. 7 Hillgrove also had a nice showing at the Cobb County Invitational. Johns Creek fell to No. 8 after finding mixed results against out-of-state opponents.
In Class AAAAA, Whitewater remained No. 1 after taking out Class AAAA No. 2 Sandy Creek and Class A No. 4 Landmark Christian. Pope sneaks up to No. 2 after the 8-0 week last week. Northgate sticks at No. 5 after beating Locust Grove and Sandy Creek. Sequoyah falls out of the rankings as No. 9 North Paulding played its way in with a recent hot stretch.
Woodland-Henry and Southeast Whitfield each jumped up one spot in Class AAAA. No. 3 Woodland-Henry won eight straight last week before falling to Class A No. 3 Savannah Country Day. Southeast Whitfield moved one spot head of Heritage-Catoosa, a team the Raiders defeated last week. South Effingham also moved up to No. 7.
Blessed Trinity lost its first match of the year Saturday when the Titans fell to Hoover (Ala.). Blessed Trinity remains No. 1, ahead of Woodward Academy, who reached the finals of the Tournament of Champions before losing to a team from South Carolina. Oconee County has been hot of late, winning its last 10 matches. The Warriors moved up to No. 6 in Class AAA. Ringgold is the newest team in Class AAA, checking in at No. 10.
In Class A, Hebron Christian moved into the poll at No. 10 after dispatching No. 8 Providence Christian as well as Brookwood and Archer. Savannah Country Day defeated Class AAAA No. 1 Veterans while Landmark Christian defeated Sandy Creek.
AAAAAA
1. Walton
2. Harrison
3. Mill Creek
4. North Gwinnett
5. South Forsyth
6. North Cobb
7. Hillgrove
8. Johns Creek
9. Norcross
10. Lambert
AAAAA
1. Whitewater
2. Pope
3. McIntosh
4. Northview
5. Northgate
6. Ola
7. Greenbrier
8. Union Grove
9. North Paulding
10. Apalachee
AAAA
1. Veterans
2. Sandy Creek
3. Woodland-Henry
4. Southeast Whitfield
5. Heritage-Catoosa
6. Jonesboro
7. South Effingham
8. Walnut Grove
9. Locust Grove
10. Shaw
AAA
1. Blessed Trinity
2. Woodward Academy
3. St. Pius X
4. Sonoraville
5. Hart County
6. Oconee County
7. West Hall
8. North Oconee
9. East Hall
10. Ringgold
AA
1. Wesleyan
2. Westminster
3. GAC
4. Calhoun
5. Jefferson
6. Kendrick
7. Coosa
8. Johnson-Augusta
9. Chattahoochee County
10. Lovett
A
1. Walker
2. George Walton Academy
3. Savannah Country Day
4. Landmark Christian
5. Strong Rock Christian
6. ELCA
7. Gordon Lee
8. Providence Christian
9. Savannah Christian
10. Hebron Christian
Secondary Content
Bottom Content