Section Branding
Header Content
Woodward Academy Wins Battle Of Atlanta
Primary Content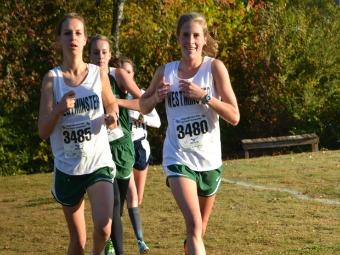 In boys Class AAA, Woodward Academy knocked St. Pius X off the top spot by winning the Battle of Atlanta in Hampton. The War Eagles impressed by defeating not only the Golden Lions but also Class AAAAA No. 1 McIntosh, No. 5 Union Grove, Class AAAAAA ranked teams Wheeler and Harrison and several other ranked teams from various classifications.
In the girls race at Hampton, McIntosh took the team title and, consequently, gets the nod at No. 2 in Class AAAAA, pushing Lakeside-Evans, which finished third in the Battle of Atlanta, to No. 3. Winder-Barrow moved up to No. 4 after a strong showing (fifth place) in Hampton. St. Pius X took over the top spot in Class AAA after finishing runner-up in Hampton.
As a result of a fourth-place finish in Hampton, Whitewater dove into the AAAAA rankings at No. 7.
Mill Creek won the boys Gwinnett County Championships while Norcross came in second and Brookwood fourth. One mild surprise was Peachtree Ridge taking fourth place, and the Lions crept back into the top 10 as a result.
Brookwood and Peachtree Ridge swapped spots in the girls Class AAAAAA poll, after the Broncos won the Gwinnett County Championship.
Meanwhile, Athens Academy took over the top spot in the Class A boys poll after winning the First Annual Run Wild Meet at First Presbyterian. Holy Innocents' jumped to No. 5 in the girls poll after a solid fifth place finish in the Run Wild Meet.
Boys
Class AAAAAA
1. Mill Creek
2. Milton
3. Norcross
4. Brookwood
5. Marietta
6. Walton
7. Harrison
8. Peachtree Ridge
9. Kennesaw Mountain
10. Wheeler
Class AAAAA
1. McIntosh
2. Lakeside-Evans
3. Pope
4. Flowery Branch
5. Union Grove
6. Lakeside-DeKalb
7. Starr's Mill
8. Riverwood
9. Greenbrier
10. Winder-Barrow
Class AAAA
1. Marist
2. Wayne County
3. Alexander
4. Sandy Creek
5. Pickens County
6. Eagle's Landing
7. Columbus
8. Chamblee
9. Westover
10. Veterans
Class AAA
1. Woodward Academy
2. St. Pius
3. North Hall
4. Hart County
5. Cartersville
6. Blessed Trinity
7. Chapel Hill
8. Oconee County
9. North Oconee
10. West Hall
Class AA
1. Westminster
2. Wesleyan
3. Bleckley County
4. Lovett
5. Murray County
6. Jefferson
7. Pelham
8. Greater Atlanta Christian
9. Oglethorpe County
10. Benedictine
Class A
1. Athens Academy
2. Darlington
3. Galloway
4. Holy Innocents'
5. First Presbyterian
6. Athens Christian
7. Pace Academy
8. Landmark Christian
9. Hebron Christian
10. Mt. Paran
Girls
Class AAAAAA
1. Milton
2. Walton
3. Roswell
4. Brookwood
5. Peachtree Ridge
6. Woodstock
7. Mill Creek
8. Centennial
9. Marietta
10. Etowah
Class AAAAA
1. Flowery Branch
2. McIntosh
3. Lakeside-Evans
4. Winder-Barrow
5. Dunwoody
6. East Paulding
7. Whitewater
8. Union Grove
9. Starr's Mill
10. Lakeside-DeKalb
Class AAAA
1. Marist
2. Alexander
3. Heritage-Catoosa
4. Chestatee
5. Pickens County
6. Grady
7. Eagle's Landing
8. Veterans
9. River Ridge
10. Carrollton
Class AAA
1. St. Pius
2. Woodward Academy
3. Blessed Trinity
4. White County
5. North Hall
6. Chapel Hill
7. North Oconee
8. Central-Carrollton
9. Buford
10. Jackson County
Class AA
1. Westminster
2. Wesleyan
3. Lovett
4. Jefferson
5. Bleckley County
6. Greater Atlanta Christian
7. Bremen
8. Thomasville
9. Pelham
10. Toombs County
Class A
1. Landmark Christian
2. Darlington
3. First Presbyterian Day
4. Athens Christian
5. Holy Innocents'
6. Providence Christian
7. Athens Academy
8. Whitefield Academy
9. Pinecrest Academy
10. George Walton Academy
Secondary Content
Bottom Content