Section Branding
Header Content
Lassiter Coach Praises Printz's Poise
Primary Content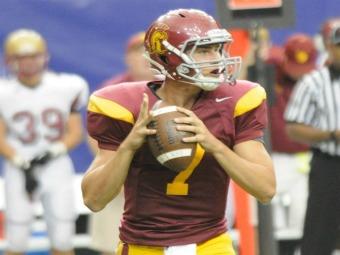 The year of the quarterback for the state of Georgia just got another big name thrown into the ring as Savannah Country Day's Heys McMath turned in a gem of a second game last week. The 6-foot-5, 200-pound signal caller accounted for five scores in SCD's victory over Wheeler County. McMath passed for a pair of scores on 11-of-17 passing and then ran for an additional 81 yards and three scores. McMath transferred to SCD from Virginia's Woodberry Forest, prime ACC country, and several ACC programs have their eyes on McMath. North Carolina State, North Carolina and Virginia have all shown an interest.
Speaking of quarterbacks, Lassiter's Eddie Printz has been contacted by several schools since news broke last week that UCLA had decided to part ways with the long-time pledge.
"Quarterback recruiting is delicate," said Trojans head coach Jep Irwin. "Eddie has handled this whole situation very well and responded by playing some of his best football. He is only worried about what he can control and realizes that recruiting is a business for the college coaches."
Irwin believes Printz has tremendous potential as a college quarterback.
"He has played in a college offense for four years, can make all the throws with accuracy and has all the intangibles you want in a QB," continued Irwin. "He knows he will have to compete to win the job in college and he is up for that."
It came via Twitter, but Buford's A.J. Davis committed to Tennessee Monday, the same school his sister de-committed from last year. A.J. Davis is a 6-foot-7 forward who made an appearance on the Score 24 2Look4 after last season when he avearged 12.7 points and 5.9 rebounds for Buford. Davis won a pair of state championships at GAC before transferring to Buford before last season. Kaela Davis had previously committed to Tennessee, only to open up her recruiting last year. Davis is listed as a five-star prospect on ESPN, the No. 1 guard in the country and the No. 2 overall player in the nation. Per ESPN, she is considering UCLA, Georgia Tech, Kentucky, Duke, Georgia and Tennessee.
Secondary Content
Bottom Content