Section Branding
Header Content
Mill Creek Races Into AAAAAA Top Spot
Primary Content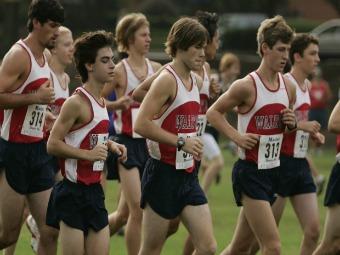 In the state's largest classification, the Walton Raiders moved up a couple spots after winning the Warpath Invitational in Canton, while former No. 1 Milton dropped after finishing behind the Raiders. After a fourth-place finish in Canton, Kennesaw Mountain entered the rankings at No. 9.
The Brookwood boys won the Carrollton Orthopaedic Invitational and moved into the top five due to their performance. While Mill Creek and Marietta were in the same meet, neither brought its full squad and, therefore, did not see it affect their ranking much. Starr's Mill improved two spots in the AAAAA poll after an impressive seventh-place finish in Carrollton.
Also in the boys rankings, Cartersville moved into the top five in the AAA poll.
There was a major shakeup in the girls Class AAAAAA poll after Milton took first place in Canton easily ahead of Walton and previously top-ranked Roswell. The Eagles are now in the top spot with the Raiders behind in second. Also, Centennial entered the poll after an impressive finish in Canton, and Marietta entered after a third-place finish at the Carrollton Orthopaedic Invitational.
The McIntosh girls made probably the biggest leap of the week, as the Chiefs entered the Class AAAAA poll at No. 6 after taking third place in the competitive Carrollton meet.
Boys
Class AAAAAA
1. Mill Creek
2. Milton
3. Norcross
4. Brookwood
5. Marietta
6. Walton
7. Harrison
8. Parkview
9. Kennesaw Mountain
10. Wheeler
Class AAAAA
1. McIntosh
2. Lakeside-Evans
3. Pope
4. Flowery Branch
5. Union Grove
6. Lakeside-DeKalb
7. Starr's Mill
8. Riverwood
9. Greenbrier
10. Winder-Barrow
Class AAAA
1. Marist
2. Wayne County
3. Alexander
4. Sandy Creek
5. Pickens County
6. Eagle's Landing
7. Columbus
8. Chamblee
9. Westover
10. Veterans
Class AAA
1. St. Pius
2. Woodward Academy
3. North Hall
4. Hart County
5. Cartersville
6. Blessed Trinity
7. Chapel Hill
8. Oconee County
9. North Oconee
10. Dalton
Class AA
1. Westminster
2. Wesleyan
3. Bleckley County
4. Lovett
5. Murray County
6. Jefferson
7. Pelham
8. Greater Atlanta Christian
9. Oglethorpe County
10. Benedictine
Class A
1. First Presbyterian
2. Landmark Christian
3. Galloway
4. Darlington
5. Athens Christian
6. Pace Academy
7. Athens Academy
8. Providence Christian
9. Mt. Paran
10. Lakeview Academy
Girls
Class AAAAAA
1. Milton
2. Walton
3. Roswell
4. Peachtree Ridge
5. Brookwood
6. Woodstock
7. Mill Creek
8. Centennial
9. Marietta
10. Etowah
Class AAAAA
1. Flowery Branch
2. Lakeside-Evans
3. Dunwoody
4. East Paulding
5. Union Grove
6. McIntosh
7. Winder-Barrow
8. Starr's Mill
9. Lakeside-DeKalb
10. Pope
Class AAAA
1. Marist
2. Alexander
3. Heritage-Catoosa
4. Chestatee
5. Pickens County
6. Grady
7. Eagle's Landing
8. Veterans
9. River Ridge
10. Carrollton
Class AAA
1. Blessed Trinity
2. St. Pius
3. Woodward Academy
4. White County
5. North Hall
6. Chapel Hill
7. North Oconee
8. Central-Carrollton
9. Buford
10. Jackson County
Class AA
1. Westminster
2. Wesleyan
3. Lovett
4. Jefferson
5. Bleckley County
6. Greater Atlanta Christian
7. Bremen
8. Thomasville
9. Pelham
10. Toombs County
Class A
1. Landmark Christian
2. Darlington
3. First Presbyterian Day
4. Athens Christian
5. Providence Christian
6. Pace Academy
7. Whitefield Academy
8. Pinecrest Academy
9. Holy Innocents'
10. Athens Academy
Secondary Content
Bottom Content