Section Branding
Header Content
Whitewater, McIntosh Atop AAAAA Poll
Primary Content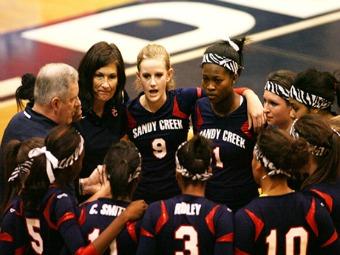 Pope dropped to No. 3 in Class AAAAA after No. 1 Whitewater went 4-0 last week to hold on to No. 1 and new No. 2 McIntosh beat former Class AA No. 1 Westminster and Class AAA No. 3 St. Pius X. Northgate maintained its hold on No. 5 after beating Class AAAA No. 3 Sandy Creek and No. 7 Locust Grove.
In the state's highest classification, North Gwinnett moved past Johns Creek on the strength of a win over GAC. Johns Creek dropped to No. 5 despite wins over Roswell and Creekview. Harrison sits at No. 2 behind Walton after the Hoyas took down Class AAAAA No. 8 Sequoyah. Alpharetta just missed checking into the top 10.
Sandy Creek moved up in Class AAAA after beating Locust Grove, Troup and Class AAAA No. 10 Shaw. Veterans and Heritage-Catoosa are the top two teams in the rankings. Woodland-Henry is a team to watch out for after beating Jonesboro, Union Grove and Henry County this past week. Shaw got the nod at No. 10 over River Ridge, who has won five straight.
Jackson-Atlanta is the newest team to enter the Class AAA poll after registering three wins early last week. North Murray fell out of the poll, allowing Jackson-Atlanta to move in. St. Pius X stays strong at No. 3 after wins over Buford, Westminster and East Hall. Hart County, meanwhile, had a nice showing at a weekend tournament at Collins Hill.
Wesleyan reclaimed the top spot in Class AA after knocking off GAC and Jefferson while Westminster fell three times over the weekend. Lovett checks in at No. 10 after beating Wesleyan and Coosa is the newest squad ranked in Class AA, jumping into the poll at No. 8.
In a close call, George Walton Academy held onto the No. 1 spot in Class A with wins over North Oconee and Apalachee. Walker sits at No. 2 despite beating Mount Paran. Savannah Christian moved into the rankings at No. 9 on the strength of a win over No. 4 Landmark Christian.
AAAAAA
1. Walton
2. Harrison
3. Mill Creek
4. North Gwinnett
5. Johns Creek
6. South Forsyth
7. North Cobb
8. Hillgrove
9. Norcross
10. Lambert
AAAAA
1. Whitewater
2. McIntosh
3. Pope
4. Northview
5. Northgate
6. Ola
7. Greenbrier
8. Sequoyah
9. Union Grove
10. Apalachee
AAAA
1. Veterans
2. Heritage-Catoosa
3. Sandy Creek
4. Woodland-Henry
5. Southeast Whitfield
6. Jonesboro
7. Locust Grove
8. South Effingham
9. Walnut Grove
10. Shaw
AAA
1. Blessed Trinity
2. Woodward Academy
3. St. Pius X
4. Sonoraville
5. Hart County
6. West Hall
7. Oconee
8. North Oconee
9. East Hall
10. Jackson-Atlanta
AA
1. Wesleyan
2. Westminster
3. GAC
4. Calhoun
5. Johnson-Augusta
6. Jefferson
7. Kendrick
8. Coosa
9. Chattahoochee County
10. Lovett
A
1. George Walton Academy
2. Walker
3. Savannah Country Day
4. Landmark Christian
5. Strong Rock Christian
6. ELCA
7. Gordon Lee
8. Providence Christian
9. Savannah Christian
10. Atlanta International
Secondary Content
Bottom Content