Section Branding
Header Content
Lamb Rallies Calhoun Past Carrollton
Primary Content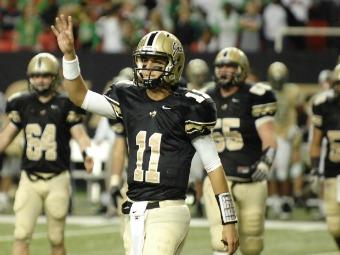 Not since 2009 has a team given up 76 points over two games and walked away unscathed. Calhoun did it then and the Class AA No. 1 Yellow Jackets started the season 2-0 despite allowing 35 against Ridgeland and 41 last week to Dalton. Class AAAA No. 6 Carrollton paid a visit to Phil Reeve Stadium Friday coming off a game against Chapel Hill where five different running backs posted a score. The Calhoun defense was shredded for 35 points, but the offense posted 46 points in a comeback victory for Hal Lamb's defending champions.
With Grayson losing earlier in the evening, Calhoun took over sole possession of the state's longest winning streak at 18 games, but for a while the streak looked in jeopardy. Carrollton's Trey Chivers scored twice in the first half to help Carrollton seize momentum after Calhoun dominated the game for the first 18 minutes, only to lead 6-0. Chivers moved from his spot at running back into the wildcat quarterback position and scored on a 28-yard touchdown run. He would then nearly match Carrollton's season-long receiving output with an 81-yard touchdown catch in the second quarter. Just before halftime, Chivers would haul in a 61-yard touchdown catch, but the play was wiped away due to a penalty.
Taylor Lamb and the Yellow Jackets would take advantage of the gift penalty by placing an early score on the board in the third quarter. Lamb would throw his second touchdown of the quarter just minutes after Carrollton stretched the lead back to nine points. Lamb found Tydus Curtis for his second touchdown catch of the game.
Chivers would put six more points on the board out of the wildcat with a 17-yard run early in the fourth quarter, but Calhoun would quickly answer as Lamb plowed in on a QB sneak. An onside kick gave Calhoun the ball back, and Lamb hit Brett Moss for a 19-yard score to take the lead.
The lead would be short-lived, however, as Chivers dashed 64 yards for a score and a 35-32 lead. That would be the final lead of the night for Carrollton as the Calhoun offense would return to work. Lamb busted into the end zone on another sneak and then a fumbled kick return gave Calhoun the ball with enough time for Alex Urbano to score from five yards out.
Carrollton's defense could not stop Lamb as the senior passed for over 300 yards and four scores and ran for another two. He now has eight passing touchdowns on the year. Chivers, meanwhile, ran for three scores and caught a fourth.
Carrollton drops to 1-2 on the season while Calhoun stretches its winning streak to 18 games with a 3-0 start. While the defense is young and needs work, it appears that the Calhoun offense can score at will and will be hard to slow this season by anyone in Class AA.
Secondary Content
Bottom Content