Section Branding
Header Content
Ridgeland's Vonn Trims List To Three
Primary Content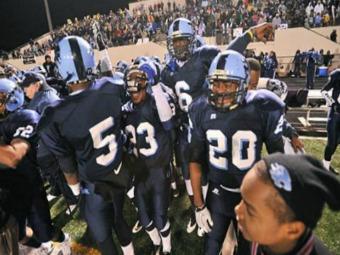 Ridgeland head coach Mark Mariakis told the Chattanooga Times Free Press that star defensive back Vonn Bell trimmed his list of potential college destinations down to three recently. Alabama, Ohio State and Tennessee made the cut for Bell, a member of the Score 44 as a defensive back, though he has also played some running back this season. Bell previously had Georgia, Vanderbilt, Clemson and Texas on his list as semifinalists, but cut the list down after reportedly asking each of the seven programs three questions about academics. Bell said he will visit each school over the next few weeks and commit before National Signing Day.
Lassiter quarterback Eddie Printz reportedly had his scholarship offer withdrawn by UCLA's coaching staff and head coach Jim Mora. The senior switched his commitment from SMU to UCLA earlier this year after the new UCLA coaching staff took over. The AJC reports that Printz has been contacted by several other schools including Missouri, San Diego State and Southern Miss.
The Buford Wolves lost a fine tight end/defensive end talent to Alabama when Kurt Freitag matriculated to Tuscaloosa after last season, but Jess Simpson and company may have found the 2012 version in Mikey Bart, a 6-foot-3, 245-pound two-way star. Against Gainesville, Bart hauled in everything thrown his way by Buford's two junior quarterbacks, including a two-point conversion that put the Wolves up by three points in the fourth quarter. Bart will offer a nice safety valve all season long for Taylor Mitchell and Montgomery VanGorder if Tre' Neal is covered up on the outside. On defense, look for Bart to make plays from his spot at defensive end as he did against the Red Elephants attack.
Veion Robinson committed to Middle Tennessee State this week, becoming the fifth Lovejoy player to accept a scholarship from the 2013 class. The defensive end/linebacker also reportedly considered Tulane, Kansas State and Furman. He recorded a sack and forced a pair of fumbles in Lovejoy's loss to Colquitt County last Friday.
Secondary Content
Bottom Content