Section Branding
Header Content
Mill Creek Climbs In New Cross Country Poll
Primary Content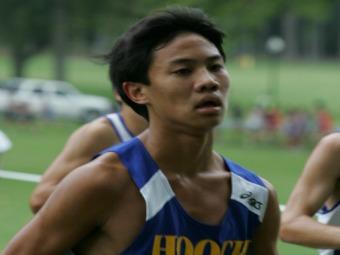 There was quite a bit of shifting in the Class AAAAAA boys poll, as Mill Creek won the Clara Bowl Invitational in Rome, and hence, moved up to No. 2 in the state. Marietta, which was No. 2, fell two spots, while Walton, which came in ninth in Rome, dropped to No. 7. Harrison climbed into the poll and debuts at No. 6 after finishing fifth in Rome.
Union Grove moved up in the Class AAAAA boys poll to No. 5 after winning the First Annual Panther Invitational in Fayetteville. After an impressive second-place finish, Starr's Mill entered the rankings at No. 9. Meanwhile, in the state's largest classification, Hillgrove switched spots with Wheeler after edging the Wildcats in Fayetteville. Columbus, which came in fifth at the Panther Invitational, appears in the Class AAAA poll at No. 7.
In Class AAA, Hart County moved up from No. 6 to No. 4 after winning the Mountain Eagle Invitational in Clarkesville.
Lakeview Academy enters the Class A boys rankings after a respectable seventh-place finish in Clarkesville. Winder-Barrow, which finished in second place in Clarkesville, is now in the Class AAAAA poll at No. 10. Also, in wake of an impressive fourth-place performance at the Mountain Eagle Invitational, Athens Christian moved up to No. 5.
In girls cross country, Mill Creek, Etowah, Archer and Marietta each debut in the Class AAAAAA poll after impressive showings at the Clara Bowl in the Class AAAAA-AAAAAA race. In Class AAAAA, Dunwoody leapt to No. 3 after coming in third in Rome. Also, in Class AAAAA, Winder-Barrow improved to No. 6 after winning the Mountain Eagle Invitational.
In Class AAA, White County had a smashing performance in Rome, finishing second in the Class A-AAAA race and debuts in the poll at No. 4. In Class A, Whitefield Academy jumped into the poll at No. 7, moving Athens Academy, which it beat in Rome, to No. 10.
Boys
Class AAAAAA
1. Milton
2. Mill Creek
3. Norcross
4. Marietta
5. Brookwood
6. Harrison
7. Walton
8. Parkview
9. Hillgrove
10. Wheeler
Class AAAAA
1. McIntosh
2. Lakeside-Evans
3. Pope
4. Flowery Branch
5. Union Grove
6. Lakeside-DeKalb
7. Greenbrier
8. Riverwood
9. Starr's Mill
10. Winder-Barrow
Class AAAA
1. Marist
2. Wayne County
3. Alexander
4. Sandy Creek
5. Pickens County
6. Eagle's Landing
7. Columbus
8. Chamblee
9. Westover
10. Veterans
Class AAA
1. St. Pius X
2. Woodward Academy
3. North Hall
4. Hart County
5. Blessed Trinity
6. Chapel Hill
7. Oconee County
8. Cartersville
9. North Oconee
10. Dalton
Class AA
1. Westminster
2. Wesleyan
3. Bleckley County
4. Lovett
5. Murray County
6. Jefferson
7. Pelham
8. Greater Atlanta Christian
9. Oglethorpe County
10. Benedictine
Class A
1. First Presbyterian
2. Landmark Christian
3. Galloway
4. Darlington
5. Athens Christian
6. Mt. Paran
7. Athens Academy
8. Providence Christian
9. Pace Academy
10. Lakeview Academy
Girls
Class AAAAAA
1. Roswell
2. Walton
3. Milton
4. Peachtree Ridge
5. Brookwood
6. Woodstock
7. Mill Creek
8. Etowah
9. Archer
10. Marietta
Class AAAAA
1. Flowery Branch
2. Lakeside-Evans
3. Dunwoody
4. East Paulding
5. Union Grove
6. Winder-Barrow
7. Starr's Mill
8. Lakeside-DeKalb
9. Pope
10. Allatoona
Class AAAA
1. Marist
2. Alexander
3. Heritage-Catoosa
4. Chestatee
5. Pickens County
6. Grady
7. Eagle's Landing
8. Veterans
9. River Ridge
10. Carrollton
Class AAA
1. Blessed Trinity
2. St. Pius X
3. Woodward Academy
4. White County
5. North Hall
6. Chapel Hill
7. North Oconee
8. Central-Carrollton
9. Buford
10. Jackson County
Class AA
1. Westminster
2. Wesleyan
3. Lovett
4. Jefferson
5. Bleckley County
6. Greater Atlanta Christian
7. Bremen
8. Thomasville
9. Pelham
10. Toombs County
Class A
1. Landmark Christian
2. Darlington
3. First Presbyterian Day
4. Athens Christian
5. Providence Christian
6. Pace Academy
7. Whitefield Academy
8. Pinecrest Academy
9. Holy Innocents'
10. Athens Academy
Secondary Content
Bottom Content