Section Branding
Header Content
Woodward Academy, Calhoun Post Big Weeks
Primary Content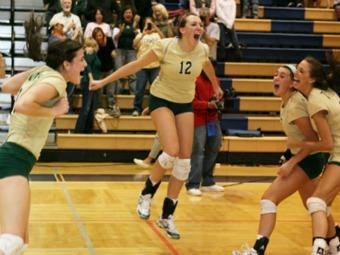 Woodward Academy finished off a tremendous week with victories over Class AAA No. 3 St. Pius X, Class AAAAAA No. 2 Harrison, Class A No. 4 ELCA and Class A No. 5 Landmark Christian by taking out Class AAAAA No. 1 Whitewater to become Lovett Block Party Tournament champions. Despite the War Eagles' success, Blessed Trinity remains No. 1 in Class AAA after beating Marist last Thursday.
Lambert moves into the Class AAAAAA poll despite dropping two of its last three matches. Prior to the recent losses, Lambert had won eight straight matches as of Saturday morning. Johns Creek moved up to No. 4 in the Class AAAAAA poll on the strength of a recent 13-game winning streak.
Whitewater staked its claim to Class AAAAA No. 1 by reaching the Lovett Block Party championship match. The Wildcats took Woodward Academy to three sets in the loss after previously beating Pope, Johns Creek and St. Pius X. Ola moved up to No. 6 in Class AAAAA.
Shaw enters the Class AAAA poll at No. 10 having won four straight, including thee over Carrollton. Southeast Whitfield reached the Georgia Challenge championship match and new No. 3 Heritage-Catoosa went 4-1 over the weekend. South Effingham won three straight Saturday and has taken nine straight matches.
Calhoun moved to No. 4 in Class AA after taking down Class AAA No. 10 North Murray en route to a tournament title over the weekend. In Class A, Walker is up to No. 2 after winning 10 straight matches while Landmark Christian moved up to No. 5 after taking down Class AA Westminster.
AAAAAA
1. Walton
2. Harrison
3. Mill Creek
4. Johns Creek
5. North Gwinnett
6. North Cobb
7. South Forsyth
8. Hillgrove
9. Norcross
10. Lambert
AAAAA
1. Whitewater
2. Pope
3. McIntosh
4. Northview
5. Northgate
6. Ola
7. Greenbrier
8. Sequoyah
9. Union Grove
10. Apalachee
AAAA
1. Veterans
2. Southeast Whitfield
3. Heritage, Catoosa
4. Sandy Creek
5. Woodland-Henry
6. Jonesboro
7. Locust Grove
8. South Effingham
9. Walnut Grove
10. Shaw
AAA
1. Blessed Trinity
2. Woodward Academy
3. St. Pius X
4. Sonoraville
5. West Hall
6. Hart County
7. North Oconee
8. Oconee County
9. East Hall
10. North Murray
AA
1. Westminster
2. Wesleyan
3. GAC
4. Calhoun
5. Jefferson
6. Johnson, Augusta
7. Kendrick
8. St. Vincent's Academy
9. Chattahoochee County
10. Lovett
A
1. George Walton Academy
2. Walker
3. Savannah Country Day
4. ELCA
5. Landmark Christian
6. Strong Rock Christian
7. Gordon Lee
8. Mount Paran Christian
9. Providence Christian
10. Atlanta International
Secondary Content
Bottom Content