Section Branding
Header Content
Mill Creek Wins Clara Bowl Invitational
Primary Content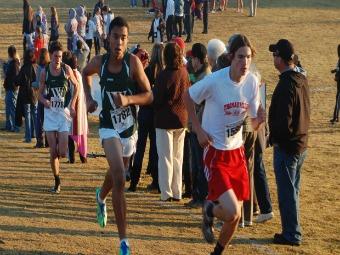 Mill Creek won the Class 5A-6A race at the Clara Bowl Invitational in Rome Saturday. The Clara Bowl is one of the biggest races of the year in cross country, and is divided between Class A-4A and Class 5A-6A. Marietta came in second in the big classification race with St. Pius X, racing above its Class AAA standing, coming in third as Austin Sprague won the individual event in 15:53. The Hawks won the event largely due to finishing three racers in the top nine and four in the top 17.
Walton won the girls Class 5A-6A race with four harriers finishing in the top 17 including Alexa Womack, who led the team by coming in fifth. Despite not having any runners finish in the top 10, Harrison came in second place with two top 20 runners in Elyse Bray and Emily Duvaris. Morgan Ainslie of Lassiter won the individual race in 19:06.
North Hall won the boys Class A-4A race with three top five finishers, led by Witt Nix in third place. Westminster came in third with three top 30 finishers, including Jordan Flowers in ninth. Chapel Hill and Cartersville rounded out the top five. Reilly Friedman of Galloway finished first in the individual at 16:20 and Mt. Paran's Joey Carr came in second at 16:34.
St. Pius X won the girls Class A-AAAA event with four finishers in the top 21 overall, including Devon Dabney at 21:02. White County came in second and North Hall finished third. Jenna Gearing won the race with a time of 19:40 while Pinecrest's Jessica Zalzman finished second.
The Winder-Barrow girls won the Mountain Eagle Invitational in Clarkesville, while Hart County won the boys race at the same event.
The Union Grove boys won the Panther Invitational in Fayetteville while Starr's Mill finished runner-up.
Secondary Content
Bottom Content