Section Branding
Header Content
Young Buford Team Shouldn't Be Counted Out
Primary Content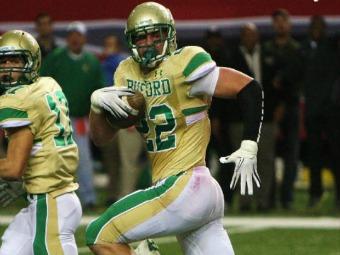 Mark Twain once said "the rumors of my death have been greatly exaggerated," after a newspaper ran an obituary for the classic American author. Heading into the season, many left the Buford Wolves for dead after seeing 12 Wolves sign with college football programs last year on National Signing Day, including eight with BCS schools. The popular opinion was that there was no way Buford could compete without all of those stars plus a quarterback that went on to play baseball for Georgia Tech.
Buford quieted many of those people in the Wolves' first game against Elbert County when the defense limited Tyshon Dye to just 34 yards in the first half of a 14-3 Buford win. Some people will begin the talk again after seeing Buford drop its first home game Friday since 2006 and its first regular season game at Tom Riden Stadium since 2000, but the final scoreboard may be deceiving. Give Gainesville and DeShaun Watson credit for pulling out the 19-15 victory, but if one looks deeper, he/she will see that the defense stood tall on a number of occasions, forcing five Gainesville turnovers with a roster comprised of mostly juniors and sophomores.
Seniors Jaylen Mize, Mikey Bart and Score 44 lineman Josh Cardiello are certainly talented, but the true talent of this team is still earning its stripes and will be strong next year and the year after, if not by the end of this year. Thomas Wilson is a playmaker of the highest order after making several nice plays on defense and special teams Friday night, including a long kick return on a play that looked like he would be stopped at the three-yard line.
Tre' Neal is an incredible talent at wide receiver and showed it when he pulled away on a 53-yard touchdown reception. Zavior Hoxie looks like he can tote the mail all day long, and he followed up his 93-yard effort against Elbert County with a touchdown against Gainesville. Both of Buford's quarterbacks Taylor Mitchell and Montgomery VanGorder will only improve with more playing time. Each displayed flashes of being on the cusp against Gainesville. Donte' Gordon also showed some chops on defense and could turn into a fearsome threat. All of these players are juniors and will be taking licks early before cashing them in on what looks like it could be another long run in the postseason.
Buford is seeking a sixth straight berth in the finals, and while Peach County, St. Pius X and Washington County look loaded and Carver-Columbus has beaten Buford in recent years, the Wolves could be ready to take down any of these foes in the postseason. Jess Simpson has won 97 games in his time at Buford and a handful of state titles. If he uses Friday's game as a learning tool, this Wolves squad will be ready to play come November.
Secondary Content
Bottom Content