Section Branding
Header Content
Upsets Shake Up Latest Class A Rankings
Primary Content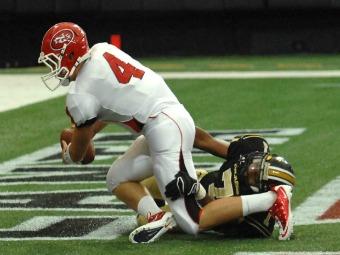 The biggest shakeup of a classification in recent memory happened over the weekend when six of the top 10 teams in Class A lost, including the top three teams. The new No. 1 team, Aquinas, ascended to No. 1 with a 2-0 record after beating George Walton Academy 28-21 in overtime. ELCA moved up to No. 2 with a victory over previously-ranked Clinch County. Wilcox County, Lincoln County and ECI round out the top five. Defending Class A champion Savannah Christian dropped out of the rankings after falling to 0-2.
In Class AA, Calhoun and Cook remain at the top of the rankings while Early County, Lamar County and Heard County check in at No. 8, No. 9 and No. 10, respectively. Heard County defeated Chattooga 47-12 over the weekend to move into the poll.
Class AAA saw a shakeup as well as former No. 2 Buford dropped to No. 5 following a rare home loss to Class AAAAA No. 8 Gainesville. Peach County, Carver-Columbus, St. Pius X and Washington County sit ahead of Buford. WaCo defeated ECI 48-22 to earn its place at No. 4 while St. Pius X dominated No. 10 North Oconee.
Three of the top five teams in Class AAAA also tasted defeat over the weekend. Cairo fell to Bainbridge by a field goal and Marist lost at home to Class AAAAA No. 9 Thomas County Central. Sandy Creek still sits at No. 1, followed by Statesboro, Grady, Stephens County and Griffin. Carrollton checks in at No. 6 and will face Class AA No. 1 Calhoun this Friday on the GPB.org game of the week.
Class AAAAA didn't see a lot of movement as most of the top teams won. Thomas County Central moved up one spot and Ware County took Jenkins' spot after a nice win against Charlton County.
Finally, North Gwinnett, despite an off week, moved up to No. 5 and will face the new No. 7 Norcross this Friday on the GPB-TV game of the week. Lowndes moved up to No. 6 after a 31-0 victory. Valdosta dropped out of the rankings following a loss to Brooks County. Colquitt County sits one spot ahead of Lovejoy, a team the Packers defeated Friday.
Class AAAAAA
1. Grayson
2. Camden County
3. Walton
4. Lassiter
5. North Gwinnett
6. Lowndes
7. Norcross
8. Colquitt County
9. Lovejoy
10. Hillgrove
Class AAAAA
1. Tucker
2. Northside-WR
3. Kell
4. Stephenson
5. Warner Robins
6. East Paulding
7. ML King
8. Gainesville
9. Thomas County Central
10. Ware County
Class AAAA
1. Sandy Creek
2. Statesboro
3. Grady
4. Stephens County
5. Griffin
6. Carrollton
7. Cairo
8. Marist
9. Westside-Macon
10. Baldwin
Class AAA
1. Peach County
2. Carver-Columbus
3. St. Pius X
4. Washington County
5. Buford
6. Thomson
7. Dodge County
8. Jackson, Atlanta
9. Appling County
10. North Oconee
Class AA
1. Calhoun
2. Cook
3. Fitzgerald
4. Lovett
5. GAC
6. Brooks County
7. Vidalia
8. Early County
9. Lamar County
10. Heard County
Class A
1. Aquinas
2. ELCA
3. Wilcox County
4. Lincoln County
5. ECI
6. Wilkinson County
7. Charlton County
8. Commerce
9. Calvary Day
10. Holy Innocents'
Secondary Content
Bottom Content