Section Branding
Header Content
Watson Leads Gainesville To Win At Buford
Primary Content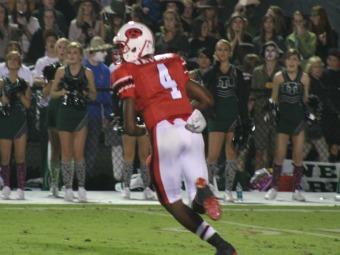 History was made at Tom Riden Stadium as the Gainesville Red Elephants defeated Buford 19-15 to pick up the program's first ever win over the Wolves. The Buford defense made plenty of plays, picking off three DeShaun Watson passes and recovering two fumbles, but Watson came through with three touchdown passes to down the Wolves. After committing just 14 turnovers one year ago in 14 games, Class AAAAA No. 8 Gainesville (1-1) has already committed nine through just two games, but a historic win over Class AAA No. 2 Buford will likely allow the coaches to smile about the team's first win of the year.
Buford (1-1) had not lost at home since the 2006 state finals to Charlton County and had not lost a regular season home game since 2000 when Commerce walked out of Tom Riden Stadium winners. The Wolves have since won seven state titles, but Friday belonged to Watson and the Red Elephants.
Buford took advantage of an early Gainesville turnover to quickly put seven points on the board on a one-yard Zavior Hoxie touchdown run. Watson and Gainesville would pull within one on a touchdown pass to Jay Gaudlock, only to see the extra point attempt blocked.
After a missed Buford field goal attempt, Gainesville would come up with a huge play to Caleb Hayman on a 67-yard reception, setting up an eight-yard touchdown pass to Rodney Lackey to make the score 12-7 at halftime.
The Wolves defense would end two potential Gainesville scoring drives with interceptions deep in their own territory, but the Wolves offense could not turn anything into points until the fourth quarter. Following a Gainesville punt, Buford's Taylor Mitchell found Tre' Neal on a 53-yard touchdown connection, followed by a two-point conversion pass to Mikey Bart to put Buford ahead 15-12 late in the fourth.
Tray Harrison then submitted what head coach Bruce Miller after the game called the turning point of the contest when he took the ensuing kickoff 65 yards to set up Watson's third touchdown pass of the game and the second to Gaudlock. This one came on third down and covered 22 yards. The extra point gave Gainesville its final 19-15 cushion to pick up its first ever win against Buford. The Red Elephants begin region play next week with a trip to Winder-Barrow. Buford will host Hancock Central before beginning region play on September 28 against Banks County.
Secondary Content
Bottom Content