Section Branding
Header Content
Milton, McIntosh Top Cross Country Poll
Primary Content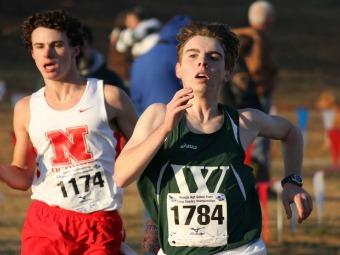 Milton gets the nod in the state's largest classification, as the Eagles had the best finish of any Class AAAAAA team at the prestigious Bob Blastow Invitation on Aug. 25. However, Milton is leading a tight pack of quality squads in Marietta, Norcross, Walton and last year's AAAAA state champion, Brookwood.
The program that won the Blastow meet, McIntosh, tops the Class AAAAA rankings and looks like the early favorite to win the state championship. Marist is another heavy favorite to win the state title, as the War Eagles will attempt to finish first at the state meet for the eighth time in 11 years.
Austin Sprague leads a solid St. Pius X squad in Class AAA that is trying to win back-to-back state titles. In an interesting turn of events, traditional powers Westminster and Wesleyan will go head-to-head in Class AA after being in different classifications in recent years.
The Roswell girls upset Walton at the Peachtree Ridge/Walton stage races last weekend. The defending state champions now reside at No. 2 while the Hornets earned the victor's spoils and have taken over the top spot.
In Class AA, the Wesleyan girls outdueled Lovett at the Kosh Invitational and get the nod at No. 2 behind Westminster.
Boys
Class AAAAAA
1. Milton
2. Marietta
3. Norcross
4. Walton
5. Brookwood
6. Mill Creek
7. Peachtree Ridge
8. Collins Hill
9. Wheeler
10. Hillgrove
Class AAAAA
1. McIntosh
2. Lakeside-Evans
3. Pope
4. Flowery Branch
5. Union Grove
6. Lakeside-DeKalb
7. Greenbrier
8. Riverwood
9. Starr's Mill
10. Kell
Class AAAA
1. Marist
2. Wayne County
3. Alexander
4. Sandy Creek
5. Pickens County
6. Eagle's Landing
7. Hephzibah
8. Chamblee
9. Westover
10. Veterans
Class AAA
1. St. Pius X
2. Woodward Academy
3. North Hall
4. Blessed Trinity
5. Chapel Hill
6. Hart County
7. Oconee County
8. Cartersville
9. North Oconee
10. Dalton
Class AA
1. Westminster
2. Wesleyan
3. Bleckley County
4. Lovett
5. Murray County
6. Jefferson
7. Pelham
8. Greater Atlanta Christian
9. Oglethorpe County
10. Benedictine
Class A
1. First Presbyterian
2. Landmark Christian
3. Galloway
4. Darlington
5. Providence Christian
6. Athens Academy
7. Providence Christian
8. Athens Christian
9. Pace Academy
10. Holy Innocents'
Girls
Class AAAAAA
1. Roswell
2. Walton
3. Milton
4. Peachtree Ridge
5. Brookwood
6. Harrison
7. Woodstock
8. Centennial
9. Johns Creek
10. Lassiter
Class AAAAA
1. Flowery Branch
2. Lakeside-Evans
3. Lakeside-DeKalb
4. East Paulding
5. Allatoona
6. Dunwoody
7. Winder Barrow
8. Union Grove
9. Pope
10. Whitewater
Class AAAA
1. Marist
2. Alexander
3. Heritage-Catoosa
4. Chestatee
5. Pickens County
6. Grady
7. Eagle's Landing
8. Veterans
9. River Ridge
10. Carrollton
Class AAA
1. Blessed Trinity
2. St. Pius X
3. Woodward Academy
4. North Hall
5. Chapel Hill
6. North Oconee
7. Central-Carrollton
8. Buford
9. Jackson County
10. Oconee County
Class AA
1. Westminster
2. Wesleyan
3. Lovett
4. Jefferson
5. Bleckley County
6. Greater Atlanta Christian
7. Bremen
8. Thomasville
9. Pelham
10. Toombs County
Class A
1. Landmark Christian
2. First Presbyterian Day
3. Darlington
4. Athens Christian
5. Providence Christian
6. Pace Academy
7. Athens Academy
8. Pinecrest Academy
9. Holy Innocents'
10. Our Lady of Mercy
Secondary Content
Bottom Content