Section Branding
Header Content
Grace, Cardiello Added To Score 44 List
Primary Content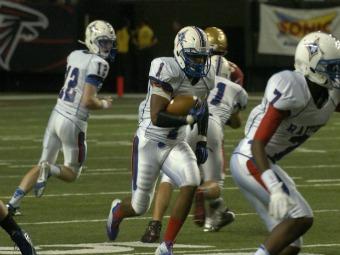 The Score 44 is a fluid list that aims to honor the best forty-four seniors in Georgia high school football on a week-to-week basis. These players are some of the most highly-recruited players in the state as well as some of the best players that may not get to play at the next level. A player can play his way onto the list with an outstanding performance, and if a player is injured, suspended or failing to live up to expectations, other players can take his spot on the list. If a player did not make list this week, he has plenty of time to play his way onto the list by the end of the year.
Makail Grace of Wilcox County may not have the four stars of former Wilcox County quarterback/cornerback Nick Marshall, but Grace has done nothing but put up incredible numbers since taking over for Marshall. Grace has Wilcox County No. 1 in the GPB Class A poll, and last week, he registered 407 yards on 19-of-27 passing while also tallying 75 yards rushing. He scored the game-winning touchdown on the ground with less than one minute to play to defeat former No. 4 Wilkinson County. Last year, Grace amassed nearly 2800 yards passing and 35 touchdowns.
Cardiello, meanwhile, is headed to UGA next season and will serve as a leader on a Buford team that was nearly gutted by graduation. The Wolves are seeking yet another state title and a sixth straight trip to the finals.
Shamire Devine couldn't help Tri-Cities get going offensively in a 12-7 loss to Washington. Elbert County's Tyshon Dye was also held to just 66 yards at the Granite Bowl in a 14-3 loss to Buford. Dye totaled 34 yards in the first half.
IN: Josh Cardiello, Buford (Buford), OL; Makail Grace, Wilcox County (Rochelle), QB/CB
OUT: Shamire Devine, Tri-Cities (East Point), OT; Tyshon Dye, Elbert County (Elberton), RB
Carlos Burse, Alpharetta (Alpharetta), WR
Kamani Thomas, East Paulding (Dallas), RB
Brandon Kublanow, Walton (Marietta), OL
Tray Matthews, Newnan (Newnan), S
Alvin Kamara, Norcross (Norcross), RB
Keyante Green, ELCA (McDonough), RB
Reginald Carter, South Gwinnett (Snellville), LB
Parker McLeod, Walton (Marietta), QB
Donnie Miles, North Gwinnett (Suwanee), RB/DB
Tyren Jones, Walton (Marietta), RB
Cole Segraves, Colquitt County (Moultrie), QB
Eddie Printz, Lassiter (Marietta), QB
Brice Ramsey, Camden County (Kingsland), QB
Robert Knemdiche, Grayson (Loganville), DE
Trey Johnson, Central Gwinnett, LB
Isaac Rochell, ELCA (McDonough), DE
Kyrin Priester, Brookwood (Snellville), WR
Shaun McGee, Brookwood (Snellville), LB
Juwan Dickey, Lassiter (Marietta), WR
Josh Cardiello, Buford (Buford), OL
Chaz Thornton, Stephens County (Toccoa), RB
Joshua Dobbs, Alpharetta (Alpharetta), QB
Octavious Jackson, Colquitt County (Moultrie), OT
Johnny O'Neal, West Laurens (Dublin), LB
Devondre Seymour North Gwinnett (Suwanee), OL
Naim Mustafaa, Alpharetta (Alpharetta), DE
Keshun Hill, Northside-Warner Robins (Warner Robins), WR
Joshua Outlaw, ML King (Lithonia), OT
JJ Green, Camden County (Kingsland), WR
Makail Grace, Wilcox County (Rochelle), QB/CB
Anthony Jennings, Marietta (Marietta), QB
Marqui Hawkins, Carver-Columbus (Columbus), WR/DB
Shaq Wiggins, Sandy Creek (Tyrone), CB
Jay Ellison, Harris County (Hamilton), DT
Demarcus Robinson, Peach County (Fort Valley), WR
Travis Custis, Lovejoy (Lovejoy), RB
Juwaan Williams, Tucker (Tucker), QB
Carl Lawson, Milton (Alpharetta), DE
Montravious Adams, Dooly County (Vienna), DT
Trevellous Cheek, Archer (Lawrenceville), CB
Ryan Jenkins, Lassiter (Marietta), WR
Quincy Mauger, Kell (Marietta), DB
Brendan Langley, Kell (Marietta) DB
Vonn Bell, Ridgeland (Rossville), S
Secondary Content
Bottom Content