Section Branding
Header Content
Georgia Stars Make Mark In New Spots
Primary Content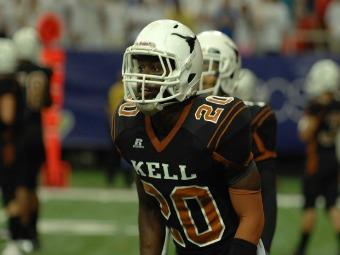 Every year, football players for one reason or another transfer to different schools and find success on the gridiron. Last year Walton's Tyren Jones was perhaps the biggest impact transfer as he carried the Raiders to the state championship game, beating his former Lassiter Trojans team twice in the process. This year, several new faces have had an immediate impact for their new teams, and coaches across the state are hoping they have the next Jones suiting up for them.
Perhaps the player that will resemble Jones the most is George Walton Academy's Stanley Williams. The former Apalachee Wildcat running back is just a junior but has already committed to the University of Georgia. The future Bulldog had 158 yards on 16 carries in George Walton Academy's victory over First Presbyterian. Williams rushed for 24 touchdowns in less than two years at Apalachee, including 891 yards and 13 scores last year before being suspended from the team. Williams is a capable back with plenty of potential, which the University of Georgia coaches also believe as they offered Williams after his freshman year.
Duluth's Lavonte Cranford made the move to the Wildcats from Norcross, and the linebacker/running back has made an impact for coach Corey Jarvis. In Duluth's opening game, Cranford posted two touchdowns to help the Wildcats rally for a 22-15 win over Berkmar. Cranford hauled in a 33-yard touchdown reception and later ran for a one-yard score.
New Alpharetta receiver Rodney Morris has offered a fine secondary target for Josh Dobbs opposite Carlos Burse. Morris had three receptions including one score in the Raiders' opening game of the year, a loss to Milton. Morris moved to Alpharetta from Wesleyan before the season.
Brookwood's Kyrin Priester has also proved to be a valuable piece for the Broncos' attack. Priester, who moved to Georgia from Florida, hauled in six catches for 90 yards and one score against Walton in the Corky Kell Classic. Priester committed to UGA back in April only to de-commit on June 15 and name South Carolina his leader. According to 247sports.com, Priester was in Athens for the Buffalo game on an unofficial visit and has listed UGA, South Carolina and N.C. State as his new leaders.
Other transfers making an early impact include Walton linebacker Dreymon Williams and Kell defensive back Quincy Mauger.
Secondary Content
Bottom Content