Section Branding
Header Content
Northside, Kell Rise In Football Rankings
Primary Content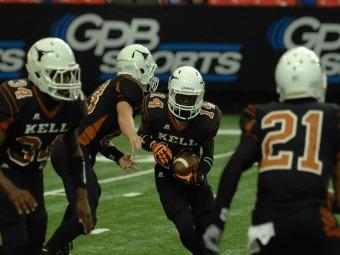 After posting victories against Georgia opponents last week in the Metro PCS Corky Kell Classic, Grayson and Camden County each thumped Florida foes Friday night. With the wins, the Rams and the Wildcats remain Class AAAAAA No. 1 and No. 2, respectively. Colquitt County moved up one spot after beating Thomas County Central and Lowndes entered the rankings after taking out Luella.
In Class AAAAA, Northside-Warner Robins moved up to No. 2 past an idle Stephenson by soundly defeating Flowery Branch in Hall County Friday on GPB.org. The Eagles look to offer a loaded offense all season with Keshun Hill all over the field, catching passes, returning kicks and taking handoffs. Tucker remains No. 1 for now, having won 16 straight games dating back to 2011. Warner Robins and East Paulding also moved up in the polls as Gainesville fell, following a loss.
Westside-Macon enters the Class AAAA rankings at No. 10 after a 69-7 victory over Central-Macon on Friday. Idle Burke County fell from the rankings as nearly every other ranked team picked up a win.
Dodge County and Jackson, Atlanta are the newest ranked teams in Class AAA while Blessed Trinity and Jefferson County fell from the polls. Buford pulled out an impressive victory on the road against No. 9 Elbert County to remain No. 2 in the rankings. The Wolves next host Class AAAAA No. 8 Gainesville this Friday on GPB.org.
Greater Atlanta Christian moved up in Class AA while Laney, 43-0 winners over Butler, and Early County, who defeated Class A power Seminole County, were two of the three new Class AA teams. Lamar County, coached by two-time state champion Franklin Stephens, moved into the rankings at No. 10.
In the state's smallest classification, Wilcox County kept its hold on the top spot with a win over Wilkinson County, down to No. 8 from No. 6. Calvary Day is the newest program in the Class A poll.
Class AAAAAA
1. Grayson
2. Camden County
3. Walton
4. Lassiter
5. Lovejoy
6. North Gwinnett
7. Valdosta
8. Colquitt County
9. Lowndes
10. Hillgrove
Class AAAAA
1. Tucker
2. Northside-WR
3. Kell
4. Stephenson
5. Warner Robins
6. East Paulding
7. ML King
8. Gainesville
9. Jenkins
10. Thomas County Central
Class AAAA
1. Sandy Creek
2. Cairo
3. Marist
4. Statesboro
5. Baldwin
6. Grady
7. Stephens County
8. Griffin
9. Carrollton
10. Westside-Macon
Class AAA
1. Peach County
2. Buford
3. Carver-Columbus
4. St. Pius X
5. Washington County
6. Thomson
7. North Oconee
8. Dodge County
9. Elbert County
10. Jackson, Atlanta
Class AA
1. Calhoun
2. Cook
3. Fitzgerald
4. Lovett
5. GAC
6. Brooks County
7. Vidalia
8. Laney
9. Early County
10. Lamar County
Class A
1. Wilcox County
2. Lincoln County
3. ECI
4. Aquinas
5. Charlton County
6. Clinch County
7. ELCA
8. Wilkinson County
9. Calvary Day
10. Savannah Christian
Secondary Content
Bottom Content