Section Branding
Header Content
Friendly County Rivalries Turn Hostile
Primary Content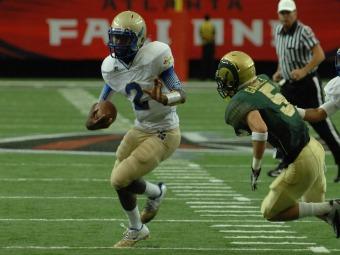 There is no disputing the fact that today's event is a chance for some of Cobb County's best programs to demonstrate the quality of high school football played here. And while the familiarity between Cobb teams certainly breeds contempt at times, the programs tend to enjoy mutual respect that does not exist in other parts of the state.
RESPECT AND SUPPORT
According to two coaches in today's event, the respect between programs and coaches is palpable despite the intense and competitive rivalries around the county.
"Cobb County coaches, since I've been here, have been really tight and supportive of each other," said McEachern head coach Kyle Hockman, who has coached the Indians since 2008. "In a playoff game for a Cobb County team, there's a bunch of other (Cobb) head coaches sitting there watching on the sideline and all pulling for each other. Maybe (today's event) will kickstart some good cross-county rivalries."
Lassiter coach Jep Irwin, in his third year at the east Cobb school, agrees with Hockman.
"What I like about Cobb County is that when coaches got eliminated in the playoffs, they were sending us text messages like 'Good luck!' and 'Go Cobb!' So it's really a friendly rivalry," said Irwin. "There's not as much hatred as a lot of people like to make it out to be. It's a good healthy, friendly rivalry, but the coaches in Cobb County want to promote Cobb football and I think this event is one way we can do that."
A week after the Metro PCS Corky Kell Classic, local football fans can enjoy another day of top-notch football as teams from competitive programs knock helmets at McEachern. While the event is a big deal to football fans around the state, its origin was rather simple and easy.
"We kinda had the idea start to float around," said Hockman of an intra-county football event. "I was just real honored that the other guys jumped on it really fast. The other three (coaches) were like 'Hey, let's do this.' It was really just a matter of working out details. It's obviously something that all four of us are excited about."
TOP-NOTCH COMPETITION
While the coaches and programs as a whole are respectful of each other, the games are intense and highly competitive. Lassiter and Walton share a rivalry so important it has been named "The Super Bowl of East Cobb," and Hillgrove and McEachern enjoy their own neighborhood grudge match. However, the combatants in today's game do not really share anything but respect and support for their opponents.
McEachern and Walton have played some important games over the years, but for the most part, have remained at arm's length. In a relationship that stretches back to 1976 the two programs have played seven times, with the Raiders holding a 4-3 edge. The last game between the Raiders and Indians came in the 2003 Corky Kell Classic, a 21-7 Walton win.
Lassiter and Hillgrove, meanwhile, have never met. But the two programs have made the playoffs a combined seven times in four seasons and each program has made at least the quarterfinals of the playoffs in the past two years.
While all four programs in today's event have advanced deep into the playoffs, none has brought home the hardware yet. While Walton made the final last year and McEachern has reached it in the past, no program from Cobb has won the state championship since Marietta in 1967. And that is a streak all Cobb coaches hope ends very soon.
The Indians, in fact, opened with last year's state champion, Grayson, last week and play the runner-up today in Walton. With such a tough opening schedule, Hockman and his program obviously have their sights on being more than just a playoff team.
"It's gonna be a huge challenge," said Hockman of his team's first two games. "We've definitely got our work cut out for us in back-to-back weeks and, honestly, that's what we're trying to do. That's our goal as a program, where Grayson was, and we want to play those types of teams early when there's no playoff implications on the line and to see where we're at."
Preparing for these games is always tricky, as there is no hiding weakness against such quality competition. Lassiter, as the only program that hasn't played a game yet, is in a unique situation.
"You hope that you've done enough to get yourself ready to play up until game week," said Irwin. "We know what we're up against in terms of the good coaching and good players they have (at Hillgrove). They've had a very good program there the past couple years."
While the competition on the field today will be white hot with intensity, there is a deep respect between them. After all, the four programs are united in search of one common goal: bringing a state championship back to Cobb.
Secondary Content
Bottom Content