Section Branding
Header Content
Grayson Holds Off Camden County For Top Spot
Primary Content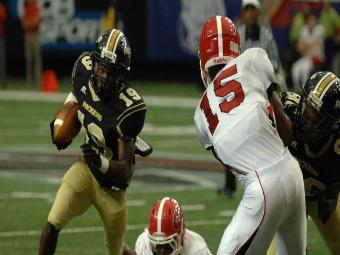 The 2012 Metro PCS Corky Kell Classic certainly was an incredible start to the season. More than 33,000 people came out to the Georgia Dome, setting a new attendance record for the event as it was the first time the Classic passed the 30,000 mark. Class AAAAAA powers Grayson, Camden County and Walton certainly impressed as did Kell in Class AAAAA. North Gwinnett and Colquitt County battled back and forth with the game coming down to a field goal as time expired, giving the Bulldogs a close victory. Coach Bob Sphire's squad debuted at No. 6 in the poll while the Packers fell from No. 3 to No. 9. Colquitt County will now head to Thomas County Central and face the Class AAAAA No. 10 Yellow Jackets, fresh off a victory over the Thomasville Bulldogs in the Rose City rivalry.
Hillgrove moved into the Class AAAAAA poll at No. 8 after an impressive offseason at the Lassiter 7-on-7 camp and a big win against Westlake. Now all four teams taking part in this Friday's Battle of I-75 will be ranked as No. 4 Lassiter faces Hillgrove and No. 3 Walton meets No. 10 McEachern, who will be hosting the event.
Two No. 1 teams fell over the weekend as Jenkins toppled former Class A No. 1 Savannah Christian 21-20 and Class AAA No. 7 Thomson defeated defending Class AAA champion Burke County 21-14. Burke County dropped to No. 7 in Class AAAA while Savannah Christian fell to No. 9. Clinch County and ELCA also fell after losses in the Class A poll. Washington County moved up to No. 6 in Class AAA after beating ELCA 24-19.
Class AAAAAA
1. Grayson
2. Camden County
3. Walton
4. Lassiter
5. Lovejoy
6. North Gwinnett
7. Valdosta
8. Hillgrove
9. Colquitt County
10. McEachern
Class AAAAA
1. Tucker
2. Stephenson
3. Northside-WR
4. Kell
5. Gainesville
6. Warner Robins
7. East Paulding
8. Flowery Branch
9. ML King
10. Thomas County Central
Class AAAA
1. Sandy Creek
2. Cairo
3. Marist
4. Carrollton
5. Statesboro
6. Baldwin
7. Burke County
8. Grady
9. Stephens County
10. Griffin
Class AAA
1. Peach County
2. Buford
3. Carver-Columbus
4. Elbert County
5. St. Pius X
6. Washington County
7. Thomson
8. North Oconee
9. Blessed Trinity
10. Jefferson County
Class AA
1. Calhoun
2. Cook
3. Fitzgerald
4. Lovett
5. Dublin
6. GAC
7. Brooks County
8. Westminster
9. Vidalia
10. Wesleyan
Class A
1. Wilcox County
2. Lincoln County
3. ECI
4. Aquinas
5. Charlton County
6. Wilkinson County
7. Seminole County
8. Clinch County
9. Savannah Christian
10. ELCA
Secondary Content
Bottom Content