Section Branding
Header Content
Ware County Looking To Build On Success
Primary Content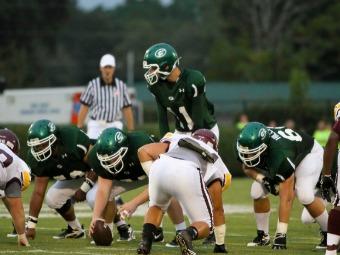 With back-to-back 10-3 seasons under his belt, Ware County coach Ed Dudley knows that he has all the parts necessary for a team ready to take the next step towards a state championship. The Gators are moving up in classification to AAAAA and will have new challenges and opportunities for the team, but pressure and big-game situations are no stranger to Dudley, who left a big-name program, Walton, for Ware County. Entering his fourth season at the helm, Dudley has continued the winning precedent set by former Gators coach Dan Ragle, who retired in 2008, and has brought his own brand of winning football to Waycross.
"We've had a very good offseason by working particularly hard on our conditioning," Dudley said. "We're trying to get back to the same level and take it further."
The team returns several key players on both sides of the ball, with leading tailback and Georgia Southern-commit Xavier Tobler returning. Last season, Tobler tallied 670 rushing yards and eight touchdowns, while also contributing as a force on the defensive line, with 65 total tackles.
Returning along with Tobler, are the Gators' two leading receivers from 2011, Isa Lowe and Carlton Jenkins, who will targeted by junior quarterback Jammar Johnson. Johnson is in place to take over for Josh Bennett under center.
"We have a good nucleus of talent returning, but the real work will be in revamping the offensive line," Dudley said.
With much of a veteran offensive line graduating after last season, Dudley is working hard to get a relatively inexperienced group ready to shine during the 2012 campaign.
On the other side of the ball, the defensive line is also a bit younger this season despite bringing back multiple key starters from last year. Jimal McBride, a 6-foot-1, 267-pound senior lineman, returns to help anchor Dudley's defense, which gave up just over 13 points per game in 2011. Defensive back Demetrius Causer returns to bolster the secondary.
With back-to-back strong seasons, Coach Dudley's main goal for this season is another deep playoff run for the Gators along with making sure his players become better men by the end of the season. Dudley has brought in a team chaplain, John Proctor, in order to maintain high-character and morals amongst his team. With positive influences on and off the field, the Ware County Gators strong winning tradition should remain a standard for years to come.
Secondary Content
Bottom Content