Section Branding
Header Content
Walton, Pope Atop Latest Volleyball Poll
Primary Content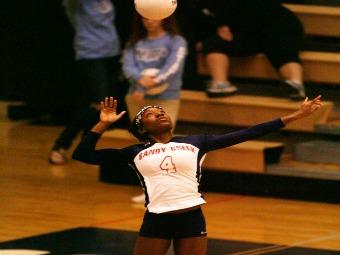 In the latest Georgia high school volleyball rankings, several teams enter the polls after fast starts and successful showings in various invitationals. Several teams now appear in the rankings after defeating other ranked opponents while some teams stayed in the rankings despite early losses because the losses came to ranked foes.
Mill Creek enters the Class AAAAAA rankings after knocking off Oconee County, Buford and Sandy Creek thus far this season. South Forsyth is also new to the Class AAAAAA poll after a 5-1 start.
Pope stayed atop Class AAAAA after a 6-1 start, though Whitewater is right there at No. 2 with a 2-0 kickoff to the season. Starr's Mill moved up one spot after a 5-1 beginning to the season. Creekview also takes Rockdale County's spot after starting 5-2.
In Class AAAA, Marist enters the poll after a nice start and Dutchtown is new to the poll. West Hall is the newest school to enter the Class AAA rankings.
In A, George Walton Academy makes its debut after jumping out to a 4-1 start to the 2012 season.
AAAAAA
1. Walton
2. Harrison
3. Roswell
4. North Cobb
5. Chattahoochee
6. North Gwinnett
7. Mill Creek
8. Etowah
9. Lassiter
10. South Forsyth
AAAAA
1. Pope
2. Whitewater
3. McIntosh
4. Starr's Mill
5. Riverwood
6. Sequoyah
7. Sprayberry
8. Northgate
9. Creekview
10. North Springs
AAAA
1. Sandy Creek
2. Columbus
3. Veterans
4. Shaw
5. Southeast Whitfield
6. Heritage, Catoosa
7. Marist
8. West Laurens
9. Perry
10. Dutchtown
AAA
1. Woodward Academy
2. St. Pius X
3. Blessed Trinity
4. Sonoraville
5. Lakeview-FO
6. North Oconee
7. West Hall
8. Ringgold
9. Oconee County
10. Hart County
AA
1. GAC
2. Westminster
3. Wesleyan
4. Calhoun
5. Lovett
6. Westside, Augusta
7. Jefferson
8. Chattahoochee County
9. Spencer
10. Johnson, Augusta
A
1. ELCA
2. Holy Innocents'
3. Landmark Christian
4. Walker
5. Our Lady of Mercy
6. Gordon LeeDarlington
7. Darlington
8. George Walton Academy
9. Savannah Country Day
10. Athens Academy
Secondary Content
Bottom Content