Section Branding
Header Content
Galbraith Trying To Rebuild Harrison
Primary Content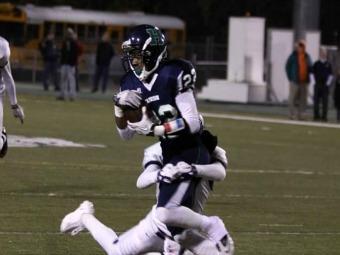 When former Harrison head coach David Hines announced in November that 2011 would be his last season with the Hoyas, wheels were put into motion. Principal Donnie Griggers and Athletic Director Jerry Meuschke were tasked with the job of figuring what coach would fit in best with the program to get Harrison back to the promised land. After having over fifty coaches apply and interview for the job, the experienced and established Marty Galbraith stuck out.
Galbraith has had a wide variety of coaching opportunities ranging from coaching in Cobb County to several stints at the college and pro level. Galbraith most recently served six years as the assistant special teams coach for the Tennessee Titans. The well-traveled coach's most notable stint was serving as offensive coordinator at North Carolina State in 2002, where he coached and developed current NFL quarterback Philip Rivers to an 11-win season. His last head coaching job was at Lassiter in the mid-90s. Now, after a long hiatus from Cobb County football, Galbraith already is noticing some drastic changes since his days at Lassiter.
"There's a lot more going on nowadays," pointed out Galbraith. "Obviously, there's more schools and these new schools have just as much talent as the historic ones. Everyone is involved, more workouts are available with greater technology and guys are taking their teams to summer camps."
With the addition of Hillgrove and Allatoona to the immediate area, Harrison has experienced a downturn in record of late. The Hoyas have failed to make the state playoffs two of the last three seasons after the prestigious high school made the playoffs 14 of the previous 15 seasons. Despite a 3-7 record last season, the Hoyas competed well and lost six of those games by fewer than 10 points. Galbraith hopes his team can compete in his inaugural season, and he understands what it takes to close out games.
"We'll have a lot of young guys getting playing time, so playing well and competing in games is important for us in this opening season," Galbraith said. "The more and more close games a team goes through, they begin to understand the composure and focus it takes to play four solid quarters at this level."
One of those "young guys" will be sophomore quarterback Lorenzo Nunez, who will be the main man under center from the get go. Nunez was able to get some varsity playing time as a freshman and is an extreme talent that defenses have a hard time containing. The 6-foot-2 dual-threat righty officially runs a stout 4.29 40-yard dash, which makes him a legit playmaker for the Hoyas.
The offense is important to team success, but the Hoyas also boast a star on the special teams squad in punter Jimmy Hutchinson. The rising senior has already committed to a scholarship at Auburn. Scouts rave about how well Hutchinson can punt the ball, claiming his punts regularly travel at least 55 yards.
"Jimmy is a force and is as good of a punter there is around here," Galbraith proclaimed. "He will be a huge weapon for us when called upon."
The Hoyas have made the jump to the new AAAAAA classification and will compete in Region 4-AAAAAA. They will be joined by familiar foes in Campbell, Marietta, Pebblebrook, South Cobb, Hillgrove, McEachern, North Cobb and Kennesaw Mountain. Galbraith does not get an easy start to his campaign as the school located on Due West Road begins the season traveling to Woodstock before taking on a tough Alpharetta team at home. Harrison will scrimmage Hiram this Friday, and Galbraith hopes that will be a great learning experience.
"The team has not had many opportunities to play alongside each other, so this scrimmage is needed to develop a comradery as a team," Galbraith stated. "It's crucial on Friday night that we are fundamentally sound and work hard."
A program can not be rebuilded over night, but the inclusion of Galbraith has Hoya Nation excited for Friday nights under the lights.
Secondary Content
Bottom Content