Section Branding
Header Content
Mountain View Softball Makes Early Statement
Primary Content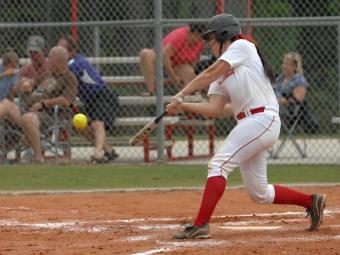 Mountain View (5-0) won the Gold Division of the South Gwinnett tournament Saturday. The Bears beat Shiloh 10-2, Social Circle 9-2 and Salem 10-2. In the Shiloh win, pitcher Kaley Hennelly got the win while also going 2-for-3 with three RBIs at the plate. Sammie Daugherty was the star of the Social Circle game by going 3-for-3 with an RBI. Courtney Kichefski was 2-for-3 with three RBIs against Salem.
Greater Atlanta Christian pitcher Mary Johnson tossed a no-hitter in her team's 16-4 win against Tri-Cities Saturday. She struck out five and also drove in two runs. The Spartans defeated M.L. King 15-0 also on Saturday as Jada Lake got the win. Courtney Czentnar homered and drove in three in the win.
Peachtree Ridge won the silver division of the South Gwinnett tournament. The Lions demolished the field with lop-sided wins over Monroe (15-3), Rockdale County (11-2) and Cedar Shoals (12-0). Julie McCollum was 5-for-5 in the tournament with three RBIs.
Pope came back to beat Sprayberry 3-2 Saturday after Sydney Segars singled in Megan Metzinger in the bottom of the fifth inning. The Yellow Jackets had jumped ahead 2-0 in the fourth before giving up three runs in the final inning. A fielder's choice scored Sprayberry's first run as courtesy runner Taylor Bates strolled across home plate. Lindsey Jenkins then singled in another run to account for the Yellow Jackets' scoring. In the fifth, an error allowed Alana Tisby to score the Greyhounds' first run, then Kelly Barnhill doubled in Jenna Reilly to tie the game and set the stage for Segars' heroics.
Wesleyan (4-1) took fifth place at the Lanier Pointe Park tournament Saturday in Gainesville. Dacia Jones got the win in the Wolves' first game versus Commerce in allowing just four hits. Landyn Duley scored twice and stole two bases while Victoria Distasi was 2-for-3 with two RBIs. Wesleyan's lone loss came at the hands of Flowery Branch, as the Wolves were shut out 2-0 despite a 2-for-3 hitting performance by CaraMia Tsirigos. Jones earned another win against Jefferson in a 5-1 triumph by the Wolves. Duley was 2-for-2 with two RBIs while Tsirigos went 2-for-2 with a homer. Wesleyan ended the tournament with an 8-0 drubbing of White County to clinch fifth place. Amanda DeLaPerriere got the win while Emily Farrow and Isabella Mateu each had two RBIs.
Parkview senior Morgan Robinson committed to play her college ball at Georgia Southern.
Secondary Content
Bottom Content